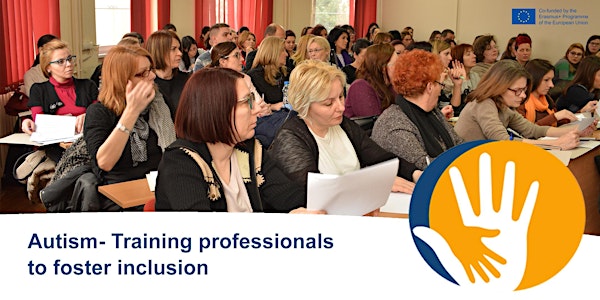 Autism- Training professionals to foster inclusion
When and where
Location
Brussels 44 Center Passage 44, Kruidtuinlaan 44 1000 Brussels Belgium
Description
ENGLISH VERSION BELOW
Si vous êtes un professionnel travaillant avec le spectre de l'autisme, cette conférence d'une demi-journée vous donnera l'occasion d'en apprendre davantage sur la formation disponible sur l'autisme en ligne, indépendamment de votre domaine de connaissance.

Cet événement, organisé par Autism-Europe, vous permettra de découvrir les résultats des travaux menés par des professionnels d'Espagne, de Serbie, du Portugal, de Belgique et du Royaume-Uni dans le cadre du projet Erasmus + IPA +, ainsi que par un formateur expert du Royaume-Uni.

Une traduction simultanée est assurée en anglais et en français.
Téléchargez le programme de l'événement


La formation IPA +
La formation IPA +, développée en collaboration avec des universitaires, des professionnels multidisciplinaires, des parents et des auto-représentants, vise à combler les lacunes existantes dans la formation à l'autisme, en tenant compte des besoins des personnes autistes et de leurs familles et des exigences de la société en général. Reconnaissant la diversité des personnes atteintes d'autisme, ainsi que les approches et modèles d'intervention existants dans l'autisme proposés par les services de soutiens et le rôle des professionnels, IPA + propose une nouvelle stratégie éducative permettant à un large éventail de professionnels de soutenir les personnes autistes dans différents contextes et domaines de la vie.
On espère que la participation aux modules aidera les professionnels à développer leur confiance en eux-mêmes, en les aidant à élaborer et à mettre en œuvre des stratégies d'auto-assistance permettant de répondre aux besoins des personnes autistes avec lesquelles ils travaillent et de réduire les tensions liées à leur activité professionnelle.


Conférencière invitée
Linda Woodcock - Directrice à AT Autism, Royaume-Uni
Linda a de nombreuses années d'expérience dans le travail avec les personnes autistes et leurs familles. Auparavant, elle gérait des services de conseil et de défense des droits ainsi qu'un service de soutien à la famille pour un grand organisme de bienfaisance régional. Elle a joué un rôle déterminant dans la conception et la prestation de programmes de formation novateurs centrés sur la personne autiste à l'intention des parents et des familles, notamment afin de les aider à comprendre l'autisme et les comportements qui posent problème. Elle donne également cette formation aux professionnels des services de santé, de protection sociale et d'éducation, ainsi qu'au système de justice pénale. En outre, Linda effectue des évaluations et des audits de service, tant au Royaume-Uni qu'à l'international. Elle est la co-auteure du livre «Gestion de la crise familiale: approche axée sur l'approche low arousal et l'autisme». Linda gère un service axé sur la personne pour son fils adulte qui est autiste et a d'un soutien important et complexe.
AT-Autism, membre associé d'Autisme-Europe, propose des formations et des conseils sur tous les aspects de l'autisme et des maladies neurodéveloppementales associées afin de soutenir les individus, les familles, les professionnels et les organisations britanniques et internationales.
____________________________________________________________________________________
ENGLISH VERSION
If you are a professional working with persons on the autism spectrum, this one-day conference will give you the opportunity to learn more about education on autism, independently of your area of knowledge.

This event, organised by Autism-Europe, will share the work and expertise of professionals from Spain, Serbia, Portugal, Belgium and the UK in the framework of the Erasmus+ project IPA+.

Simultaneous translation into English and French will be provided.


The IPA+ training
The IPA+ Training, developed in collaboration by academics, multidisciplinary professionals, parents and self-advocates, responds to the existing gaps in training on autism, the requirements of autistic people and their families, and the demands of society in general. Taking into account the diversity of the profiles of people on the autism spectrum, as well as the current approaches and intervention models in autism that are restructuring support services and the role of professionals, IPA+ proposes a new educational strategy to qualify professionals to support autistic people in different contexts and spheres of life.
It is hoped that participating in the modules will help professional to grow in confidence, assisting them in making and implementing self-help strategies that will go some way toward meeting the needs of the autistic people they work with and easing strain associated with their professional activity.


Keynote speaker
Linda Woodcock- Director for AT Autism, UK
Linda has many years experience of working with autistic people and their families. She previously managed advice and advocacy services and a family support service for a large regional charity. She has been instrumental in devising and delivering innovative person centred training courses for parents and families in understanding autism and behaviours that challenge. She also delivers this training to professionals within health, social care and education services, as well as the criminal justice system. In addition, Linda carries out assessments and service audit and reviews working both in the UK and internationally. She is the co author of the book 'Managing Family Meltdown: The low arousal approach and autism'. Linda manages a person centred service for her adult son who has autism and severe and complex needs.
AT-Autism, associated member of Autism-Europe, offers training and consultancy in all aspects of autism and related neurodevelopmental conditions to support individuals, families, professionals and organisations in the UK and internationally.