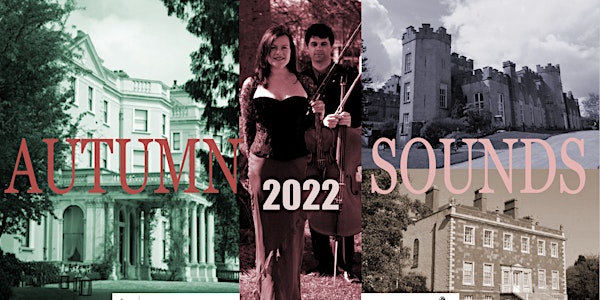 Autumn Sounds 30th September
AUTUMN SOUNDS IS BACK!
When and where
Location
Farmleigh House & Estate White's Road D15 TD50 Phoenix Park Ireland
About this event
THIS EVENT IS NOW BOOKED OUT
Duo Chagall, who have run the popular classical music series since 2010, will be performing again live in venues around Fingal, after two years of absence.
OPW are delighted to resume their partnership by hosting the series at the magnificent Ballroom, Farmleigh, on Friday 30 September and Friday 7 October, doors 7.30, 8pm start.
The longest established classical music partnership in Ireland, Duo Chagall is comprised of Fingal-born violinist Gillian Williams and French cellist Arun Rao. Gillian led their dedicated outfit, the Fingal Ensemble, in Vivaldi's Four Seasons in Malahide and Draiocht for their 2019 series, as well as three hour-long concerts recorded at the Baldoyle Community Centre for the 2021 online edition which was broadcast live on the Draoicht YouTube website. The duo is thrilled to finally get the chance to perform live again in Fingal!
FRIDAY 30 SEPTEMBER: This concert will focus on French chamber music from the 'fin de siècle' and the 'Belle-Époque' and include works by female composers, some yet to be re-discovered (Mel Bonis, Cécile Chaminade, Lili Boulanger, Marguerite Canal).
The last three are part of a CD of French works recorded by Gillian and eminent Irish pianist and scholar Una Hunt in May this year, officially released at this event.
A number of works will be getting their first hearing on Irish soil: two Sonatas by Benjamin Godard (for solo violin) and Eugène Ysaÿe (for solo cello), an Idylle for violin by Canal and two short works for piano trio by Bonis: Matin and Soir.
Free but tickets required.
*(To avoid long waits for taxis after the event, we recommend booking a taxi in advance if required.)