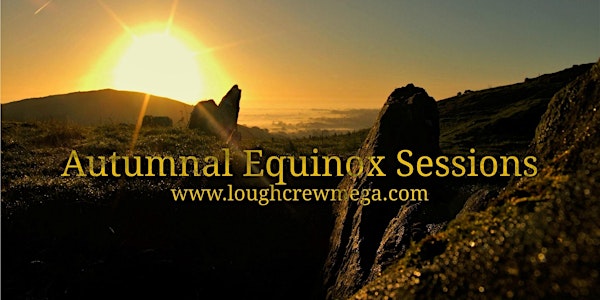 Autumnal Equinox Sessions at Loughcrew
When and where
Location
Loughcrew Megalithic Centre Corstown A82 A6N7 Oldcastle Ireland
Refund Policy
Refunds up to 7 days before event
Description
Autumnal Equinox Sessions is a time at Loughcrew when we celebrate the alignment of Cairn T with the rising sun. Cairn T at the ''Hill of the Witch'' is over 5,000 years old and attracts hundreds of people who make the early morning hike to the highest point in the Boyne Valley.
These Ancient Passage Tombs will be open for sunrise on Thursday 21st, Friday 22nd and Saturday 23rd of September.
Equinox Breakfast Available on above dates at Sunrise
See below for event details and times:
Thursday 21st of September
---
07.30 An Equinox Art Exhibition by Lar Dooley and Sandra Nelson opens our Autumnal Equinox Sessions
Saturday 23rd of September
---
09.00 - Talk and Guided Tour of Lougcrew by Malachy
09.30 - Kids Animation with Tina - A showing of Conan & The Mystical Magical Light of Loughcrew
10.00 - Kids Yoga with Dearbhla from Recharge Yoga
14.30 - Mythical Storytelling with Treasa from Sarcred Sites
14.30 - Kids Art with Pauline from Little Artists Studios
Sunday 24th of September
---
09.30 - Vinyasa Morning Yoga with Vickie
11.00 - Equinox Mediation with Debbie from the Heart Wings and Angelic Connections
13.00 - Psychic Medium Dawn
14.00 - Reiki with Vickie & Tina
- Integrated Energy Therapy with Eddie
- Reflexology with Stephen
More information about our Sessions:
---
Malachy and Tina
The co-authors of ''Loughcrew, A Visitors Guide'' will share their knowledge on the area. Tina will show Kitchen Cupboards Productions familiy animation ''Conan and the Mystical Magical Light of Loughcrew''. Join them both for a guided tour of the hill after. Find Malachy and Tina from 9am in ''Benny's Workshop''
Dearbhla from Recharge Yoga
Dearbhla will be running Yoga & Yoga therapy classes which will be Fun, Loud, Energetic & Awesome. There will be 3 sessions. The first will be for 3 to 5 yr olds, the second for 5 to 8yr olds and the last will be for 8 to 12 year olds. Yoga can help adults and children to feel calm and relaxed, build strength and flexibility, build resilience and emotional intelligence and learn life skills to deal with stresses and anxieties
Mythical Storytelling by Treasa from Sacred Sites
Storytelling Irish myths and legends from Loughcrew and beyond. Treasa is a qualified Tour and Heritage Guide, Holistic Therapist and Stress Management Consultant. She is a Ban Draoi with a keen interest in and passion for our sacred sites and has a series of guided meditations Sacred Sites of Ireland available, including Loughcrew. She is currently studying archaeology at UCD. Join Treasa for some inspiring storytelling in Maggie Heaney's Cottage from 2.30pm
Pauline from Little Artists Studios
Pauline holds arts & crafts classes for toddlers and kids every Saturday in Benny's Workshop. Join the group for some equinox fun suitable for children aged 18 months to 12 yrs. It gets Messy!
Vinyasa Morning Yoga with Vickie
Vickie Branigan is a qualified holistic therapist who has been teaching yoga since 1999. Her classes integrate the mind body spirit philosophy using the flow of pranayama and asana. This class will focus on energising and healing the self. Please wear comfortable clothing and bring a mat or towel.
Debbie from The Heart Wings and Angelic Connections
Debbie will be facilitating a healing meditation circle in Benny's Workshop. During this class we will be working with the pure sacred energies of the land and the powerful and loving angelic frequencies. This class is open to all levels from beginner to the more experienced. On this day mid-point between the Summer and Winter solstice it's an excellent time to reflect and realign or amend your intentions for this year. The ancient ones choose this land as an important ceremonial site allowing them to know and celebrate the exact time of the Equinox . At the Equinox the light shines right into the back of the Cairn at Loughcrew indicating an exact balance of day and night. This makes it an excellent time to realign yourself to balance and harmony within your own life.
Psychic Medium Dawn
Dawn is a Psychic Medium who can communicate with loved ones in Spirit. With the use of cards and intuition she can see and predict future events. Find Dawn in ''Maggie Heaney's Cottage'' from 1pm
Reiki Sessions with Vickie & Tina
Reiki is a technique that aids the body in releasing stress and tension by creating deep relaxation.Reiki restores energy balance and vitality by relieving the physical and emotional effects of unreleased stress. It gently and effectively opens blocked meridians, nadas and chakras, and clears the energy bodies, leaving one feeling relaxed and at peace. Join Vickie & Tina in Benny's Workshop from 2pm
Integrated Energy Therapy with Eddie
IET is a healing approach that helps clear away the emotional, mental, physical and spiritual energy blockages while relaxing in a warm comfortable setting. Nine healing Angels are invited to assist in removing the blockages by working with the healer. Join Eddie in Benny's Workshop from 2pm
Reflexology with Stephen
Reflexology is the holistic understanding, study and practice of treating points and areas in the feet and hands that relate to corresponding parts of the body. Using precise hand and finger techniques, a reflexologist may improve circulation, induce relaxation and enable homeostasis. This encourages the person's own healing systems to be activated to maintain wellbeing. Join Stephen in Benny's Workshop from 2pm