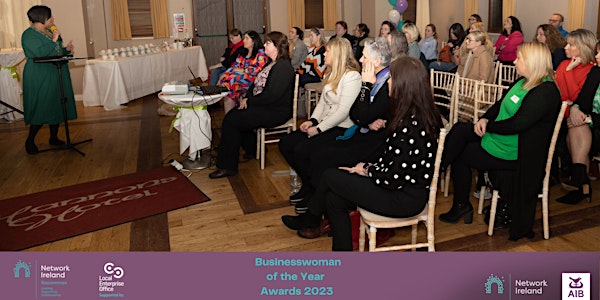 Awards Information Evening Meeting
An evening of information and Q&As about the Businesswoman of the Year Awards application.
By Network Ireland Roscommon
Date and time
Mon, 20 Mar 2023 13:00 - 14:30 PDT
About this event
All Network Ireland Roscommon members are welcome to join on a meeting about applying for the Businesswoman of the Year awards.
Q&A's about how to apply, best category for your business, T&C's etc.
Ireland is full of talented and dedicated female professionals. They have successful careers and run successful businesses, but in many cases also juggle the needs of their families plus are involved in the community and carry out voluntary work.
Network Ireland Businesswoman of the Year Awards are designed to recognise the achievement of these women. Awards are divided into 8 categories, see listed below, so there is a category suitable for every professional woman.
Previous applicants have benefited from publicity in print media and social media, both locally and nationally. Throughout the process of applying for these awards, applicants get a chance to review their current position, think about their future direction, improve strategic focus and learn more about themselves and what they would like to achieve in the future.
This year we will run 18 Local branch finals. The winners of these will go forward to represent their branch at a national level. Winners are chosen by a panel of business experts based on the information supplied in the application form.
The judging panels are looking for women who understand business, who are passionate about their career/business, and who show a determination to succeed no matter what life throws at them.