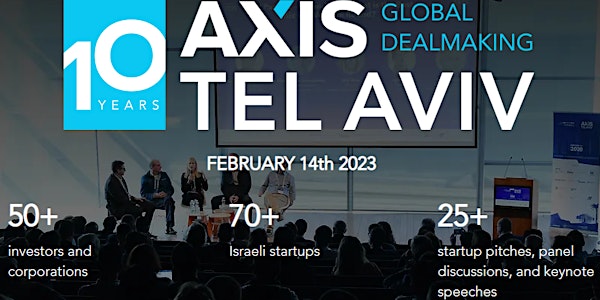 Axis Tel Aviv 2023: Startups. Investors. Connected.
Axis Tel Aviv is Axis Innovation's flagship innovation conference that connects international investors, corporations and Israeli startups.
When and where
Location
Peres Center for Peace and Innovation 132 Kedem Street Tel Aviv-Yafo, Tel Aviv District Israel
Refund Policy
Refunds up to 30 days before event
About this event
9 hours 30 minutes

Mobile eTicket
Axis Tel Aviv is Axis Innovation's flagship conference about Israeli startups and global innovation. Now celebrating its 10th consecutive year, Axis Tel Aviv is recognized as one of Israel's most effective events for dealmaking, international investors and speakers, limited attendees, and quality content and networking.
Axis Tel Aviv is a unique opportunity to meet, learn, and network with global investors and corporations and leading Israeli tech startups. At Axis Tel Aviv, join us to discuss the latest technology and innovation challenges, watch leading Israeli startups pitch, investor panels, roundtable discussions, delicious gourmet food, and high-level networking - all from the beautiful beachside venue of the Peres Center for Peace & Innovation in Tel Aviv-Yafo. Whether you are a startup, investor, corporate innovator, or an ecosystem member looking to grow your business and network, Axis Tel Aviv is a must-attend event of the year.
AGENDA
TUESDAY, February 14th, 2023
08:30 - 09:00
Registration, Coffee and Networking Overlooking the Mediterranean Sea
09:00 - 09:10
Opening Remarks by Ed Frank, CEO @ Axis Innovation
Lital Kiperman Vaknin, Head of Strategic Partnerships @Peres Center
9:10 - 10:20
Axis Exchange 1 - Metaverse & AI Session
Moderated by Nils Müller, CEO & Founder @ Trendone (Germany), sharing his views on The Future Mindset
Panelists:
Anton Fedorov, Partner, @Flashpoint VC (USA)
Arik Kol, Head of Inception Israel @NVIDIA (Israel)
Francois Dufour, Open Innovation Hub Director @Orange Innovation (France)
Mor Eini, Head of Business Development & Partnerships, @APX VC (Germany)
Oded Agam, Managing Partner & Co-Founder, @NextLeap Ventures (Israel)
10:20 - 10:40
Universities and Corporations - Exploring partnership options to advance innovation
Moderator: Kimberli Lewis, General Manager @SIINDA (Switzerland)
Panelists:
Gabriela Montojo Sancho, Development Coordinator @IE University (Spain)
Dr. Norbert Csizmadia, President Board of Trustees @John von Neumann University (Hungary)
Leslie Broudo-Mitts, Managing Director, Coller Institute of Venture @Tel Aviv University
10:40 - 11:00
Keynote Speakers: Ideas Are Plentiful. Execution is Challenging. A session is focused on helping startups succeed
Kimberli Lewis, General Manager @SIINDA (Switzerland)
Gregory Shepard, Co-Founder, @BOSS Capital Partners (USA)
11:00 - 11:20 Coffee Break
11:20 - 11:40
Global PerspectivesNRW: Hot spot for VC & PE funding in Germany
Marius Rosenberg, Head of Business Unit @NRW.Global Business (Germany)
GeoPolitics: Maps to Change the World
Norbert Csizmadia, Director of the Eurasia Center at John von Neumann University (Hungary)
11:40 - 12:45Axis Exchange 2 - Retail Tech Session
Moderator: Gregory Shepard, Co-Founder, @BOSS Capital Partners (USA)Panelists:​Hans-Peter Rohner, Private Investor, Board Member, @PubliGroupe (Switzerland)Héctor Shibata Salazar, Investment Director, @AC Ventures (Mexico)Marius Rosenberg, Partner @TIGGES Rechtsanwälte (Law Firm) and Extended Board Member, Private Equity Forum NRW e.V. (Germany)Marc-Olivier Lücke, General Partner @Atlantic Labs (Germany)Neta Meir, Group Innovation SVP, @Sodexo (France)Troy Osinoff, General Partner, @Magic Fund (USA)Ziv Gafni, Head of Digital Strategy, Fintech & Markets Innovation, @JP Morgan Chase (USA)​
12:45 -13:00 Keynote SpeakerThe ESG Imperative: What Entrepreneurs Can Learn from SDG StartupsPaul Adam Isbel, Professor, @IE University (Spain)
13:00 - 14:00 Lunch
14:00 - 15:15 Axis Exchange 3 - Climate Tech & Energy Session
Moderated by Emily Yukich, Managing Partner, Fox Rothschild sharing her views on "Using Finders to Raise Funds in the U.S.—What is Legal"Panelists:Charles Sidman, Founder and Managing Partner, @ECS Capital Partners (USA)Covadonga Fernandez, Corporate Development, @Kubota (Japan)Diane Frachon, Venture Principal, @Schlumberger New Energy (UK)Ethy Levy, Managing Partner, @Kinneret impact ventures (Israel)Eugeny Kuznetsov, CEO, Founder, Partner, @Orbita Capital Partners (Dubai)Solomon Ibragimov, General Partner, @Sakal Group Family Office (USA/Israel)
15:15- 15:30 Keynote Presentation:Energy and Telecom Driving Smart Cities
Edward Bouygues, Deputy CEO, Bouygues Group, Chairman, Bouygues Telecom (France)
15:30 – 16:45 Axis Exchange 4 - Smart Mobility/Smart Cities SessionModerator: Jeremy Lustman, Partner, @DLA Piper (Israel)
Panelists:
Alaa Afifi, VP Global Business Development @Afifi Group (Israel)
Dana Bublil, Investment Manager @Target Global (Israel)
David Zinn, Managing Director, @Ocean Azul Partners (USA)
Marie-Luce Godinot, Senior Vice-President Innovation @Bouygues Group (France)
Matan Hazanov, Managing Director, @Verstra Ventures (Canada)
Nish Patel, Managing Partner, @Inertia (USA)Pavel Ezekiev, Founder and CEO,@ΝΞΟ Ventures (Spain/Bulgaria)
Sophia Nadur, Managing Partner (New Markets) @bp Ventures (UK)
16:45 - 17:00 Closing Remarks and Wrap up of Axis Tel Aviv 2023
17:00
Tour of Peres Center for Peace and Innovation
Reception sponsored by Bouygues Group & Chutzpah Lab