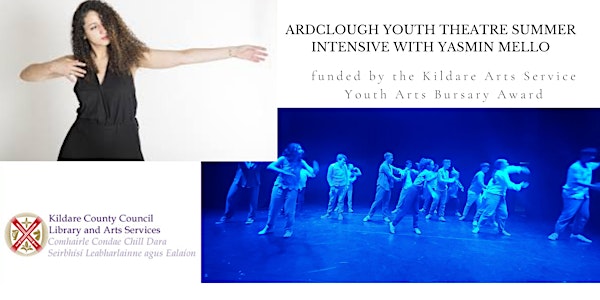 AYT Summer Intensive with Yasmin Mello
A five-day intensive workshop with dance artist and movement researcher Yasmin Mello running August 1st to 5th.
When and where
Location
Straffan Community Hall Straffan Straffan Ireland
About this event
Project Overview
Ardclough Youth Theatre invites all interested young people to join us for a week-long summer intensive with dance artist and movement researcher Yasmin Mello. The week long project will focus on the theme of cultural diversity. This collaborative process will explore how the performing arts sector can function as a space to create dialogue and reflection in a fun and community-led setting. Participants will focus on:
Dance theatre and movement on stage
The young people will be working towards a showcase for friends and family on the final day of the project.
Date and Times
Monday the 1st of August to Friday the 5th of August
10 am to 3 pm daily
Straffan Community Hall
Please bring a packed lunch and clothes you can move in.
Participation
All young people aged 12 or above are welcome to participate in the workshop. You do not need to be a current AYT member to participate. AYT welcomes participation from young people of all backgrounds, abilities and identities. Including young people with limited mobility or who speak English as an additional language.
Cost
The cost of participation in the project is 30 euros per family. Please select one member under tickets and add any additional siblings afterwards. Kildare County Council Library and Arts Service kindly support the project through the Youth Arts Bursary Award 2022.
If participation costs create a barrier for any young person who wishes to partake, don't hesitate to contact ardcloughyt@gmail.com.
More Information
For more information on the project and Ardclough Youth Theatre's work, don't hesitate to contact ardcloughyt@gmail.com or text Phoebe at 0851027035.
About Yasmin Mello
Yasmin Mello is a Dublin based choreographer, director, performer, researcher and a dance and pilates instructor. She has a BA in Dance from Angel Vianna Dance College (Br) and an MPhil in Theatre and Performance from Trinity College Dublin (Ire) and her main interest is making interdisciplinary work combining dance, theatre and visual arts through intuitive investigation. She has performed with several dance groups in Brazil and twice took part at the Panorama Festival: in 2011 with her own work "Gira a Gira" as part of the Universities Showcase and in 2014 as part of a Residency with Cena11 Dance Company. In 2015 she started working as Assistant Director and Performer at Portus Dance Company, an independent dance company based in Rio de Janeiro; together they created a collection of short screendances, an itinerant street performance performance and a stage work called "Palavras". After moving to Dublin in 2016 she worked as a Dance Director training and choreographing a group of young dancers with the Lucan based company Next Level Dance Center and together they received numerous dance awards including the "Outstanding Choreography Award" with the Twilight Festival in 2017.
Yasmin has co-written, directed and choreographed the dance theatre piece "Oi!", which premiered in February 2019 at the Scene+Heard Festival and which was later adapted to a short film with the support of the LaunchPad Bursary from DanceHouse Dublin. Besides that, together with comedy actor and writer Johny Walsh she has developed and facilitated the project "Mobilise" a socially engaged workshop which was awarded the Trinity Equality Fund 2019. She also received a scholarship to join the Echo Echo Dance and Movement Festival 2019 and with it came the opportunity to expand her network with international artists. In July 2020 she spent a week in residency at DanceHouse Dublin working on her new piece "Marbleface" which was later performed as a short film work-in-progress with Imagine Arts Festival 2020 (Ire) and has been selected to be commissioned by the festival in 2021