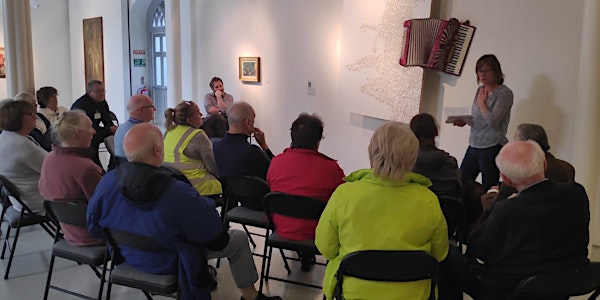 Azure – At home with the Collection
Exploring Art. For People Living with Alzheimer's and Dementia
About this event
Join artist Claire Halpin via Zoom and explore art, and specifically works in our Collection in a friendly, relaxed manner, taking place monthly, on Friday's at 11am for under an hour.
In this session, Claire will look at Nathaniel Hone's Pastures at Malahide and two other works. Look, discover & enjoy.
Attendee Outline:
• One ticket need only be purchased per household/screen
• A maximum of 25 screens/attendees/families may be admitted to the Session.
Zoom Guidelines & Settings
• The required ZOOM link will be sent to all attendees via Eventbrite 1 hour before the event starts
• As further protection, each unique link will be accompanied with a password only for those intending to participate, and sent to the email used to book through Eventbrite
• ZOOM's 'Waiting Room' feature has been enabled, allowing the host to check and admit attendees to the session. Please make sure your ZOOM username/profile name matches that which was used to book through Eventbrite
• Use of Social Media Accounts to sign into the Workshop ZOOM meeting have been disabled to protect privacy of attendees
• Workshop will be locked once all scheduled attendees have been admitted
• File Sharing has been disabled
• ZOOM's Chat Save function will be disabled
• ZOOM's Private Chat function will be disabled
About: For over five years, Highlanes Gallery has been involved in the Azure Programme developed especially for people living with dementia and Alzheimer's.
Looking at the Drogheda Municipal Art Collection and Exhibition Programme, you will have an opportunity to look at art more closely in a caring, friendly and social environment, discussing the pieces and giving opinions in a non-judgmental setting.
Context: Dementia-related diseases affect roughly 48,000 people in Ireland, leaves those suffering from it feeling isolated and often frustrated. By providing a friendly and inclusive environment in which people can freely participate in active discussion Highlanes Gallery hopes to allow participants, and their carers feel like a more active and visible part of the community.
Studies of previous programmes such as those run by the Museum of Modern Art in New York have shown that art therapy and creative expression has been shown to benefit dementia and Alzheimer's patients, who show greater self-confidence and elevated moods in the weeks following the events. These studies have led to the formulation of the Azure project, a joint effort between the Alzheimer Society of Ireland, Age and Opportunity, and a number of Irish Galleries including Highlanes to increase support and awareness of dementia in Ireland.
If you want to discuss any aspect of what a session might involve, please Aoife Ruane on aruane@highlanes.ie.