About this Event
Join Alex the Great Hypnotist on a virtual tour of the USSR through his fantastic comedy hypnosis show!
The "Back in the USSR" Hypnosis show brings you on a virtual journey in which the audience members will become the stars of the show. After a brief introduction to the show, Alex will encourage his audience to join him on stage for some great fun!
A percentage of the tickets sales will be donated to the Children's Medical and Research Foundation at Our Lady's Children's Hospital, Crumlin.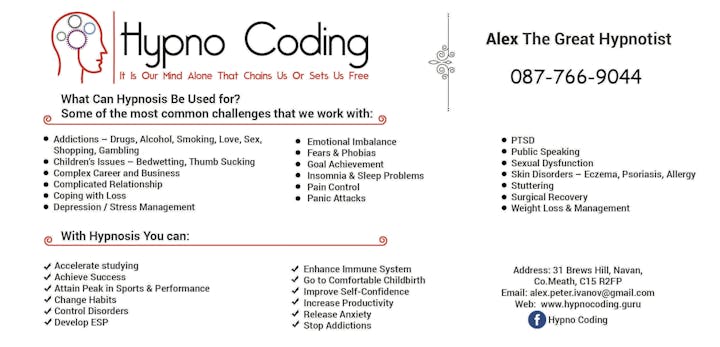 Ticket's Holder gets 10% off of any Hypnosis Treatment in "Hypno Coding" Hypnosis clinic, please keep it safe for further references.
Ticket Disclaimer
The Ticket holder is admitted on condition, and by use of this ticket agrees that:
• This ticket cannot be replaced if lost, stolen or destroyed.
• The venue operator or event promoter may be exclusive owner of all copyrights and other proprietary rights to the Event and Event Information;
• Ticket holder grants permission to utilize the holder's image or likeness in connection with any photograph, video or other recording means for transmission, broadcast or promotional use.
• Every experiment presented on show done entirely through your own choosing and personal accomplishment.
• WARNING! THE TICKET HOLDER BEARS THE RISK OF THE DANGERS INCIDENTAL TO THIS EVENT, whether occurring prior to, during, or after the Event including specifically (but not exclusively) the dangers of being struck by thrown or projected objects, atmospheric effects, strobe light usage, or loud noises.