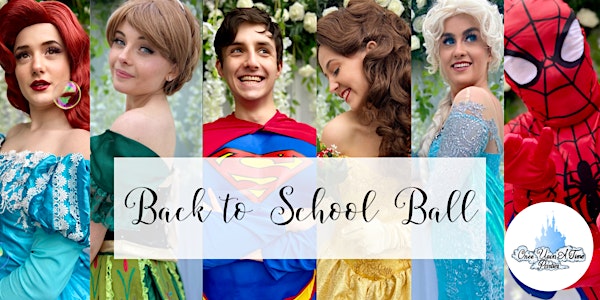 Back to School ball
Once Upon a Time Parties cordially invite you to our Back to School Ball!
When and where
Location
The Westgrove Hotel Abbeylands Naas Ireland
About this event
Each 1 hour and 15 minute event will include:
* Sing along show to all your favourite fairytale classics
* Frozen statues with the Snowflakes Sisters
* Storytime with the Rose Princess
* Magical photo opportunities, take home polaroid photograph x1 and certificate
Event suitable to children 4-8 years old.
Doors open 30 minutes before time shown on ticket.
First event
Entry 10:30
Event starts 11:00
Finishes 12:45
Second event
Entry 1:00
Event starts 1:30
Finishes 2:45
Third event
**Cancelled due to circumstances out of our control**
All ticket holders for the 4:00 event can transfer to a different time or request a refund. We apologise for the inconvinience.
Emails have been individually sent out to inform ticket holders of the cancelation.
T&C's
Event will take place at the time shown on ticket.
This event is not suitable to children under the age of 4 years old.
Once Upon a Time Parties main priority is the safety of your children. We require a safe ratio of five children to one staff member. Children or adults without a ticket will not be permitted entry to the event.
A seated parents area will be available for you to sit back, relax and enjoy your little ones dreams unfold before their eyes. The parents area is a few steps away from the children's floor area (both in one space) we ask parents remain seated throughout the event.
We require 1 adult minimum, 2 adults max per ticket. There are 30 child tickets max available per event. We ask parents/ guardians be at hand to take their little one to the toilet if needed.
Three of our characters will be greeting all the princes and princesses upon entry where photographs are permitted and there will be 25 minutes allocated near the end of the event where each child will get a photograph with all of Once Upon a Time Parties fairytale characters. We ask that parents refrain from taking individual photographs with characters in the middle of the event as our hero's and princesses will be extremely busy!
We ask costume props ie. wands be left at home incase anything gets lost or forgotten.
Food and drink will be prohibited in the event space.
COVID 19 policy
Once Upon a Time Parties "Back to School Ball" will be following HSE recommendations at the time of the event.
THINK BEFORE YOU MEET UP
R.S.V.P Risk, Symptoms, Venue, People
Assess your level of risk or visit
We can't wait to meet you all!