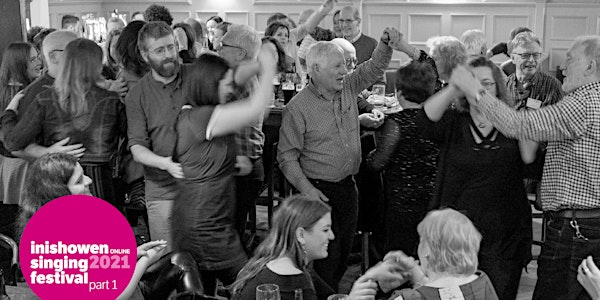 Back to the Bar Singing Session
Back to the Bar Singing Session hosted by Lucy Donaghey and Brian Doyle
About this event
The Saturday Night Concert is over to it's time to pile into the bar of the Ballyliffin Hotel for some serious singing. It's the second night of the festival so we are well warmed up!
The session will begin at 9:30 pm (Irish time) but doors will open at 9 pm to gather and have a quick chat before the singing starts.
If you would like to join us on Saturday night, please register and we will be in touch on Saturday 20 March with your zoom link. Please note that the Session will also stream live on Facebook, and will be recorded by ITSC for our archive.
This year all events at the online 2021 Singing Weekend are free to attend but if you are able to make a donation, no matter the amount, to support ITSC activities, we would be really grateful. You can support ITSC here.
Details of all events at the Inishowen Singing Weekend 2021 can be found on our website. Please follow us on Facebook, Twitter, Instagram & YouTube, and visit our digital exhibition The Inishowen Song Project in collaboration with the Irish Traditional Music Archive.
The Inishowen Singing Weekend is funded by the Arts Council of Ireland and Donegal County Council.