Bagnelstown Activity Hub Basketball Taster Day Session 2-15 & 17 yrs Mixed
Bagenalstown Activity Hub is delighted to host a Basketball Taster Day for the Young People in Bagenalstown and surrounding areas.
About this event
Bagenalstown Activity Hub is bringing Camp of Champions Basketball Development to the Presentation Del Sal College for a Taster Day on Monday 9th August.
Session 2: 3.30 pm to 5 pm for 15 & 17 yrs - Mixed Group - Guys & Gals
Contact Bagenalstown Hub Coordinator: Majella Fennelly
By email: mfennelly@carlowcoco.ie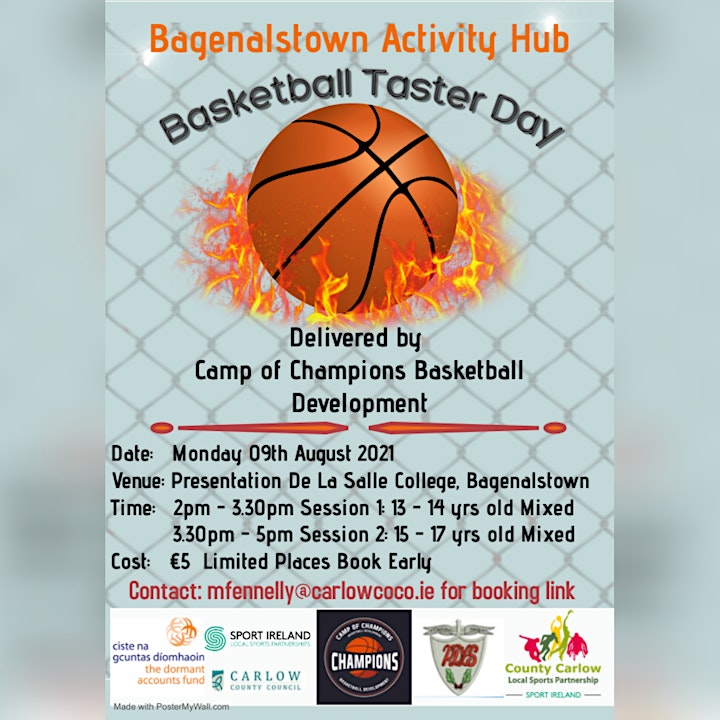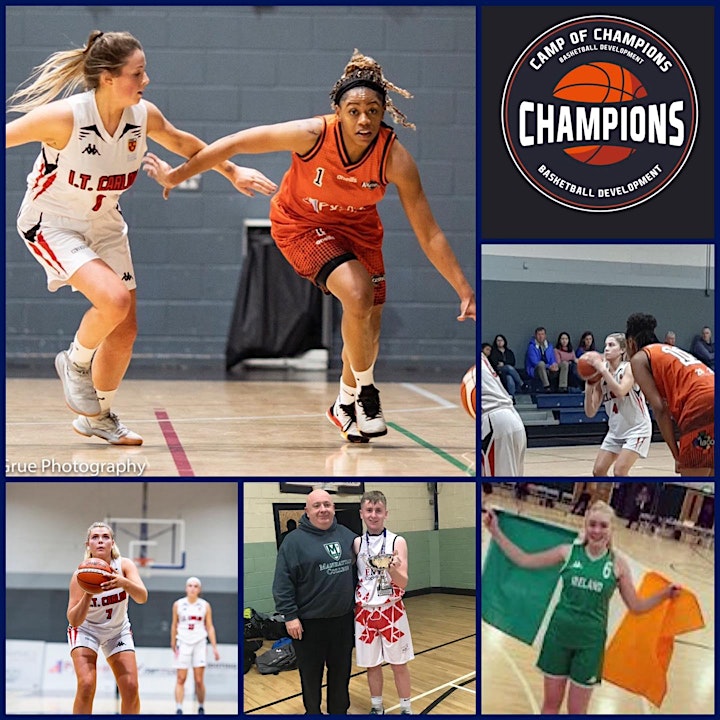 Fantastic Assistant Coaches lined up for the Basketball Camps this Summer in County Carlow.
Megan Dunne has played at National League and Super League for IT Carlow Basketball and has captained our NL and SL Women's Squad for the past 5 seasons. Megan has coached at camp 4 time in the past and has always been a big hit with our campers.
Holli Dunne has played with our Women's National League and Super League Squads in IT Carlow since our club joined the league 7 years ago. Holli also represented Ireland at the U20 Women's European Championship in Montenegro in 2016.
Miah Ryan has played with her home club Larrie Byrds since its inception and has also played with IT Carlow Basketball in the Women's Super League for the past 3 seasons. Miah also represented her country at U16 level in the European Championship.
Jake Conroy is part of the IT Carlow Basketball Men's National League Squad and played with Ballyroan Blue Stars two seasons ago. Jake will also work at camp in Drogheda in early July under Coach Maeve Coleman.
Ava Coogan played with Kilkenny Stars before joining IT Carlow Basketball Women's Super League last season. Ava was on the Ireland U18 Women's Squad under Coach Tommy O'Mahony.
Camp of Champions are very proud of their fantastic coaching staff, especially proud that most of their Assistants were campers themselves in the past.
Sign up and get to meet the assistant coaches.
Organiser of Bagnelstown Activity Hub Basketball Taster Day Session 2-15 & 17 yrs Mixed