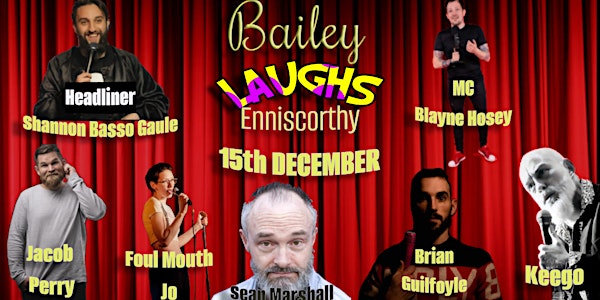 Bailey Laughs Comedy
Enniscorthy's Newest Entertainment Venue, and What Will Be the Only Place In Town To Have a Laugh Of A Thursday Night. 18+
When and where
Location
The Bailey Cafe Bar Barrack Street Enniscorthy Ireland
About this event
We welcome you to the First Dedicated Comedy Club in Enniscorthy, and what promises to be a new hotspot for entertainment in the South East.
This is the inaugural Bailey Laughs, so we have made sure to gather the cream of the crop of Comedians from throughout Ireland, and an Aussie.
YOUR MC FOR THE NIGHT BLAYNE HOSEY
Your MC for the event is Blayne Hosey, a Bunclody man and a regular on the Irish Comedy Scene. He is better known as the better Half of The Opinion You Didn't Ask For and as unhinged as a barrn door after a storm.
FOUL MOUTH JO
Your First Comedian, Foul Mouth Jo is a comedian from Wexford who has performed in both Ireland and New Zealand. She has been selected to perform in several competitions including: BBC's New Comedy Award 2022; Cherry Comedy's Breakout Act 2022; New Zealand's Raw Quest 2019 and Funny Women 2018 & 2019. She produces comedy theatre, and films with Fly Away Home Productions.
JACOB PERRY
Your Next Comedian is Jacob Perry is a fun new voice in comedy. With a charmingly relaxed delivery this Aussie larrikin will leave you smiling even between punchlines.
Jacob has performed in all of the top rooms on the east coast of New South Wales and internationally in Ireland and the UK.
Jacob is a clever joke writer impressing audiences with his hilariously honest take on his lot in life.
Recently finishing runner up in 'Joke Off' Sydney's riches comedy competition Jacob is a definitely a comedian to watch out for the future and also right now. Come revel in his warm energy.
BRIAN GUILFOYLE
Labeled "One to Watch" by comedians and Shopping Centre Security Guards alike, Brian Guilfoyle's tales of his youth, parenting, and being 'nearly-but-not-quite-just-yet-40' have been entertaining audiences around the country since he burst on the scene last year.
SEAN MARSHALL
Sean Marshall is a stand-up comedian, comedy author and radio presenter who has gigged extensively across Ireland as well as in Northern Ireland, Great Britain, Belgium and Sweden; and recently brought his fourth solo show to the Edinburgh Fringe.
KEEGO
Keego hasn't sent me a Bio as of yet, so I will take liberties on his behalf. Keego likes Wrestling, has a tremendous beard and wears amazing jackets. Other people wear pyjamas to bed, but Keego wears just the jacket. Hailing from Bray, Wicklow, we have ensured his safety for the night by providing safe passage down the motorway, and is renowned for always providing a top notch set.
YOUR HEADLINER
Shannon Basso Gaule is most definitely a comedian.
He started his career in New Zealand in 2019 and won the Best Newcomer awarded by the NZ comedy guild in 2020. From there, he toured the county with two shows he co-produced Booze and Craic and Lucky to Be Here. While also making appearances at the Classic Comedy club.
Since moving back home, he has gigged all over Ireland and Europe; making appearances at the Coco Comedy Club in Cork, The Craic Den Dublin, Hardy Har Bray, Cosmic Comedy in Berlin, and The Comedy Clubhouse in Barcelona was chosen to support John Colleary as part of Lillieplalooza in Sligo.
Shannon is the founder of Stand up at Scraggs Alley, a monthly show based in Carlow.
IG: @sbgcomedy
FB @sbgcomedy
THE VENUE
The event will be hosted downstairs in the cabaret area of The Bailey. One of Enniscorthy's finest restaurants and bar's, overlooking a part of the river slaney, with ample parking facilities to the rear of the building.
Hungry? If you speak to any of the locals, they can vouch for the high quality food that is served, with full Breakfast, Lunch and Dinner menu, full bar, including the best cocktail bar bar none in Enniscorthy.
The venue is wheelchair accessible via both entrances to the building, and the kind staff will be more than happy to cater for any additional requirements you may have.
Event is strictly 18+, and a ticket will be required to gain entry. So make sure to book early, as if you arrive not meeting the age limit, or you have no ticket, well that's your own fault.....
So, there's your lineup, some venue information and some housekeeping. If there is anything further you require, don't hesitate to get in touch: baileylaughscomedy@gmail.com.