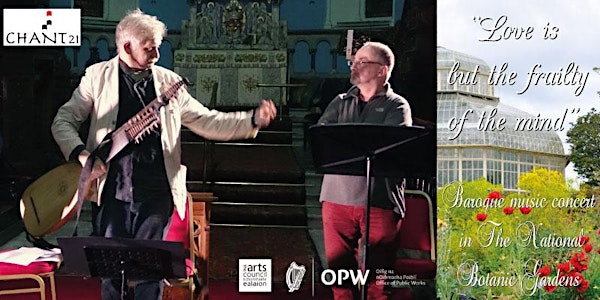 Baroque Music Concert 'Love's but the frailty of the mind'
Soul healing early Baroque music concert for voice and lute from Italy and England. C. MONTEVERDI; H. PURCELL in the program.
When and where
Location
National Botanic Gardens Glasnevin D09 VY63 Dublin 9 Ireland
About this event
CHANT21
Eileen COYLE - soprano
Jacek WISLOCKI - tenor
Jerzy ZAK - archlute
Chant21 is coming back to the National Botanic Gardens this June !
We are inviting you to enjoy with us the finest collection of lute songs and duets by Italian and English composers of 16th and 17th C.
Our program will bring together some contrasting musical masterpieces form southern and northern Europe. We are hoping that the vivid and affective repertoire including Monteverdi's sensual 'Pur ti miro', from L'Incoronazione di Poppea, will have something to offer for everyone to enjoy.
Note: Free parking will be available at the Gardens for your convenience.
'Love's but the frailty of the mind'
PROGRAM:
Love in the South
Michelagnolo GALILEI (1575-1631) Toccata / Galliarda / Corrente / Volta Il primo libro d'intavolatura di liuto, Munich 1620
Giovanni Felice SANCES (c1600 - 1679) Lilla bell'e crudele − Dialogo amoroso (Cantade, 1633)
Girolamo FRESCOBALDI (1583-1643) Se m'amate, io v'adoro. Madrigale a due voci (Arie musicali, 1630) Dove, dove ne vai pensiero. Canzone a due voci (Arie musicali, 1630)
Claudio MONTEVERDI (1567-1643) Bel Pastor (Madrigale e Canzoni, Libro Nono) Pur ti miro (from L'Incoronazione di Poppea [by Benedetto Ferrari??]
Love in the North
Nicolas VALLET (c1583 - after 1642) Gaillarde du comte essex (J. Dowland) / Branle d'Irlande / Chançon a la Polonnoise Paradisus Musicus Testudinis…, Amsterdam 1618
William CORKINE (1610–17) Come live with me, and be my love (1612)
Robert JOHNSON (c 1583 - 1633) Tell me, dearest, what is love (The Captain)
Henry LAWES (1596 - 1662) Dialogue on a kiss
Henry PURCELL (1659 - 1695) Man, Man, Man (a Song in the Mock-Mariage)
Matthew LOCKE (1621/3–1677) When death shall part us from these kids (1675) A Dialogue between Thirsis and Dorinda; A. Marvell
Cuthbert HELY (first half of the 17th C) Fantasia (Lord Herbert of Cherbury Lute Book)
John BLOW (Newark, 1648/9 - London, 1708) A two-part Song: "When artists hit on lucky thoughts" (On the Excellency of Mrs Hunt's Voice, and Manner of Singing)
Chant21 has been present on the Irish artistic scene for the past 5 years, thanks to the generous support of the Arts Council, the National Botanic Gardens and other distinguished organisations and enterprises. The ensemble managed to gain an enthusiastic, multinational audience representing Dublin's music lovers, and including Ireland's Polish minority and international academics. Favourable feedback received following our previous 17th C chamber music concerts (funded by Arts Council/ Dublin City Council awards 2017-2019) highlights the project's prominent role in the cultural integration within Dublin's increasingly international community. The ensemble gave its first concert in Ireland in 2017 by gathering some of the world-class artists to perform outstanding sacred music of compositional masters of 17th c Poland (such as S. S Szarzynski), for the very first time in Ireland.