Description
maven46's inaugural 'Be' summit, is heading to Dublin's Alex Hotel to bring women, entrepreneurship, style and creativity together.
With a full day of interactive talks, live panels and experiential activity - led by top females in the industry - to give you a summit with a difference, created for women by women.
From business mavens and brand managers to love coaches and fashion experts, 'Be' will bring modern women, excelling in their industry to the forefront and allow you to mix and mingle with speakers and like-minded women in an innovative way, educational and fun way.

In this one-day event, leading influencers as well as fashion and beauty brands will support and advocate for the women who want to make their mark both personally and professionally, stylishly and creatively.

But 'Be' is not your average summit. You will have the opportunity to receive beauty treatments, gain insights into career opportunities, tap into the mindset of successful entrepreneurs who share their stories, shake it up at cocktail hour, learn how to declutter your wardrobe and the best dating techniques from our love coach all under one roof in one day.
'Be' aims to give women from all walks of life the opportunity to have fun with fashion, learn from leaders and celebrate a 360degree approach to life.
With 4 quarters to choose from and over 20 speakers and panellists, across fashion, beauty, career, love, life and everything in between, and lots to do outside of the main schedule - make your day whatever you want it to 'Be'.
Each quarter will give you unique insights into all elements of life, from fashion for workwear to discussing how to make next seasons trends work for your shape to wedding makeup advice in our beauty quarter panel, while nutritionists will discuss how to get beautiful from the inside out. Our Life and Inspire speakers will give unique advice to give you the opportunity to walk away with tangible insights into how to start your business, what funding is available, and how to succeed in a competitive market from the women who have already achieved this.
Speakers include; Author and Fashion Journalist, Annmarie O'Connor; Founder of beauty app, Raven, Trudy Hayes; CEO of TechIreland and former Dublin Commissioner for Startups, Niamh Bushnell; Fashion Stylist to model Jordan Dunn, Joolie Collier; Life and Career Coach, Paula Coogan; Love coach, author and contributor to Vogue, Persia Lawson; Founder of beauty e-commerce site Fetch Beauty, Lucy McPhail and MUA, Judy Wong - many more to be announced over the coming weeks!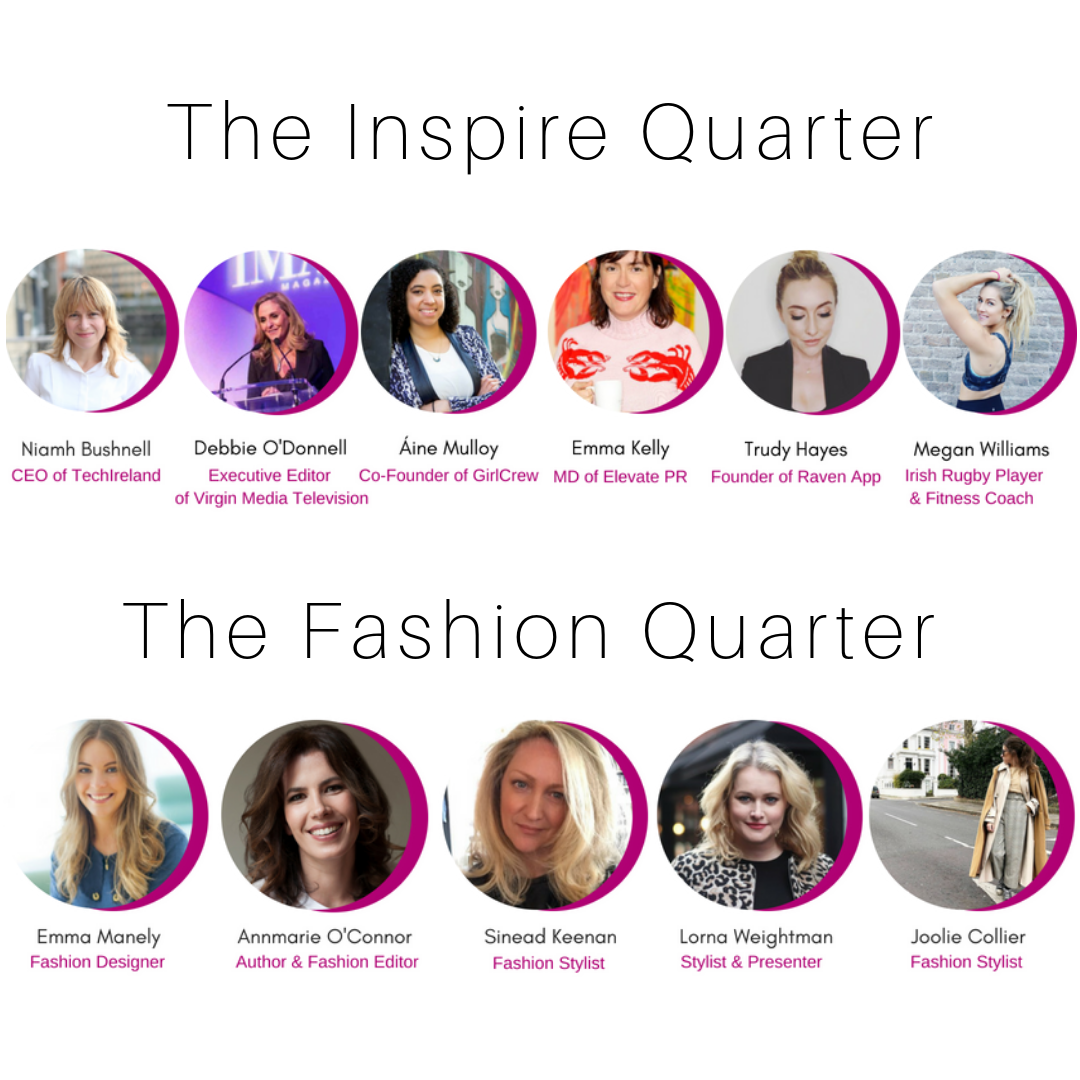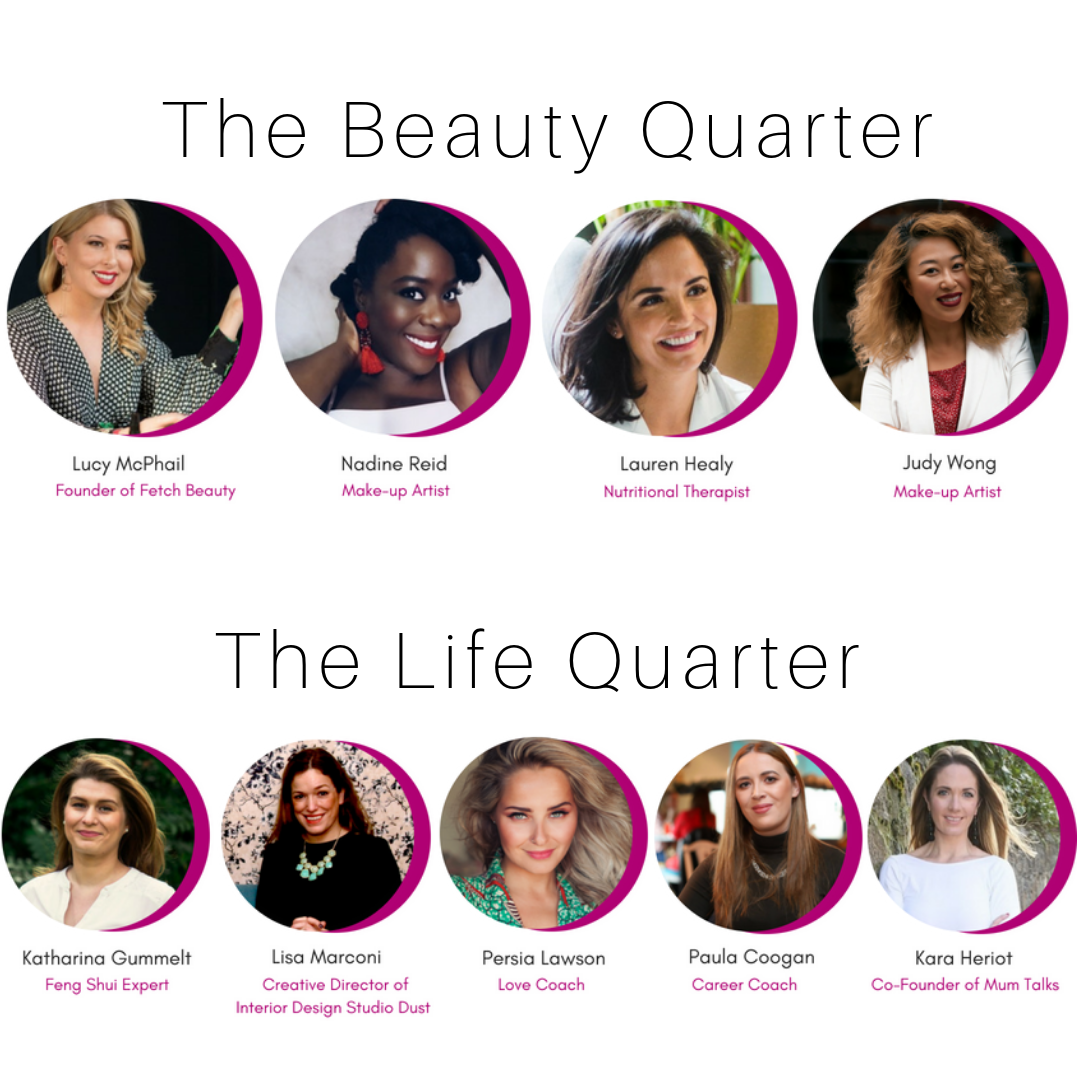 What you'll get with your ticket:
Access to all four quarters (i.e stages) and talks (Quarters: Inspire, Fashion, Beauty, Life)

Access to the activation area where you will get the chance to test out free treatments and experiences from our brands and sponsors, including a complimentary nail bar by Mavala.
Free refreshments throughout the day
Lunch from our sponsor Just Eat and their partner Freshii
Goodie bag
The chance to win fantastic spot prizes from our sponsors including a shopping spree from Zalando, hamper from Fetch Beauty, brush set from SMAK Brushes, dinner voucher for Eatzen and more.
Find out what maven46 Editor & CEO, Tanya Grimson has to say about 'Be': http://maven46.com/fashion/2018/07/introducing-be-event-dublin-our-inaugural-summit-for-women-by-women/
---
Niamh Bushnell

TechIreland

CEO

Joolie Collier




Celebrity Stylist

Paula Coogan

The Quarter Life Coach

Life and Career Coach

Marina Granville




Beauty Therapist

Tanya Grimson

maven46

Co-Founder / Editor / Fashion Stylist

Katharina Gummelt

Xiu Feng Shui

Award-Winning Feng Shui Expert

Trudy Hayes

Raven App

CEO / Founder

Lauren Healy

The Reset

Nutritional Therapist

Kara Heriot

Mum Talks

Co-Founder

Sinead Keenan




Fashion Stylist

Emma Kelly

Elevate PR

MD

Persia Lawson




Author, Speaker & Love Coach

Emma Manley

Manley

Irish Fashion Designer

Lisa Marconi

DUST

Creative Director & Interior Designer

Lucy McPhail

Fetch Beauty

CEO / Founder

Áine Mulloy

GirlCrew

Co-Founder

Debbie O'Donnell

TV3

TV Producer

Sive O\'Brien




Brand Consultant

Annmarie O\'Connor




Author & Stylist

Nadine Reid




Makeup Artist & Xposé Presenter

Lorna Claire Weightman




Fashion Stylist

Megan Williams




International Rugby Player / Fitness Coach

Judy Wong




Makeup Artist