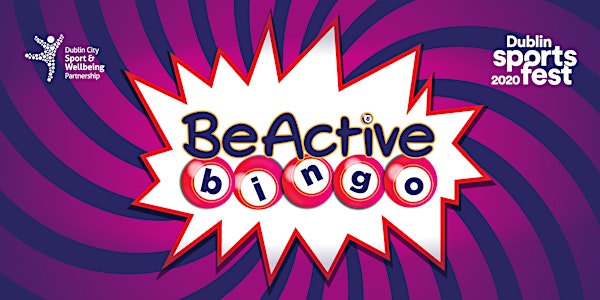 BeActive Bingo
Play, Move, Win with #BeActive Bingo
Refund Policy
Contact the organiser to request a refund.
About this event
THIS IS NO ORDINARY BINGO GAME...
We will be getting your entire family's heart rate up through a series of fun activities suitable for people of all fitness levels.
Play. Move. Win with #BeActive Bingo in an exciting, interactive online bingo night on Saturday, 26th September 2020, hosted by Eoghan McDermott of RTÉ.
The event is brought to you by Dublin City Sport & Wellbeing Partnership with support from Sport Ireland & the EU Commission.
There are amazing prizes to be won on the night, including a €2,000 voucher for Center Parcs Ireland. While also raising much needed funds for clubs all across Dublin City.
Enjoy a fun-filled family event from the comfort of your own home!!
All funds raised will be going directly back to clubs across the city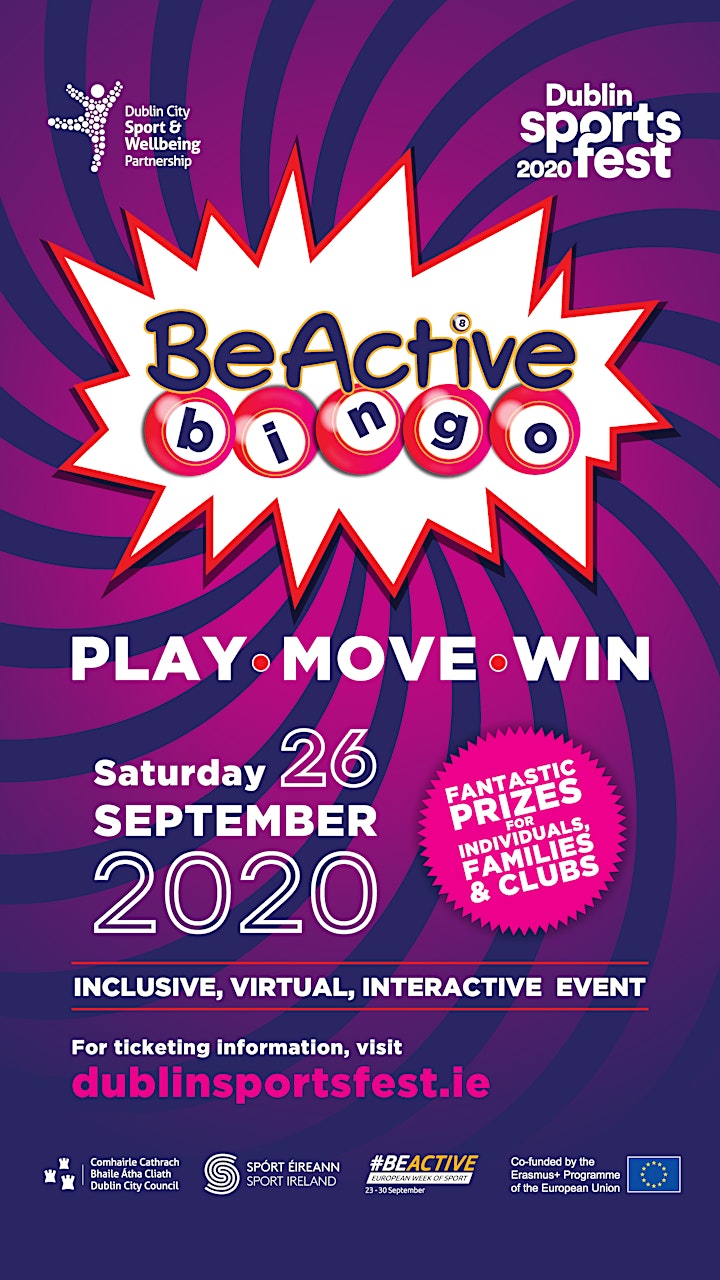 FURTHER INFORMATION:
This event is our way of bringing Dubliners together through our innovative game to say thank you for playing your part in recent times.
Suitable for everyone regardless of age or ability, BeActive Bingo is just like regular Bingo but with a twist - you will not be sitting on the couch as you play.
Our high-energy celebrity MC and expert fitness instructors will be getting you moving in the safety and comfort of your own home. They will also be interacting with you and encouraging you throughout the game.
It doesn't stop here though. As a way of giving back to our communities, we are using the proceeds from the ticket sales as a prize pool fund. During the BeActive Bingo event, we are holding a draw for clubs and community groups that provide valuable sport and physical activity opportunities to people across Dublin City. All you have to do is nominate your most deserving club/group at registration and they will be in with a chance to win a portion of the fund. There is also a bonus cash prize for the club/group with the highest number of nominations.
BeActive Bingo is a unique and rewarding way to have fun and get active with your family and friends. Get your tickets today to Play, Move, Win.
Good Luck!
Individual Cards €5.00
Group/Family Cards €10.00 (4 Players)
BeActive Bingo is part of #BeActive Night which is a European wide initiative that encourages countries to host a night time event during European Week of Sport. The events run in parallel across all of Europe and celebrate being active together
ADDITIONAL INFORMATION:
Registration
- After you purchase your tickets you will receive an e-mail from us in advance of BeActive Bingo Night
- This will contain all the relevant details on how you access and enjoy the event.
- It will include information on the virtual platform that will be used, including download details, log-in procedure & any passwords needed to participate in the game.
- Early registrations will receive BeActive Bingo cards by post.
- Later registrations will receive a digital card via email
- When registering you will be asked to nominate a sports club or community group from the Dublin City Council administrative area (see map)
- Clubs and groups nominated will be screened for their authenticity
- Upon verification, clubs and groups will be entered into the prize pool draw.
BeActive Bingo Game
- The game will commence on Saturday 26 September at 5pm
- Our aim is to get you playing and winning but we also want you to move.
- Intermittently throughout the game there will be a simple and fun activities for you to complete.
Prizes
- €2000 Family Holiday Voucher for Centre Parcs Ireland
- Cash Prizes in the form of One 4 All Vouchers for the first 10 Rows, 10 Columns and for the first X
- Cash prizes for clubs/groups from the Prize Pool
- Bonus prize for most nominated club or group.
Covid-19
- When taking part in exercise, please make sure to follow the national guidelines set out www2.hse.ie/coronavirus and www.gov.ie
Disclaimer:
- You should understand that when participating in any exercise or exercise program, there is the possibility of physical injury. If you engage in this exercise or exercise program, you agree that you do so at your own risk, are voluntarily participating in these activities, assume all risk of injury to yourself, and agree to release and discharge Dublin city council and other parties involved in this program from any and all claims or causes of action, known or unknown arising out of participating in this online program.
By signing up to the BeActive Bingo event Dublin City Council reserves the right to use any photograph/video sent into the show across social media channels, email or WhatsApp, without the expressed written permission of those included within the photograph/video. Dublin City Council may use the photograph/video in publications or other media material produced as part of the BeActive Bingo event including but not limited to – social media, video, website etc. To ensure the privacy of individuals, images will not be identified using full names or personal identifying information