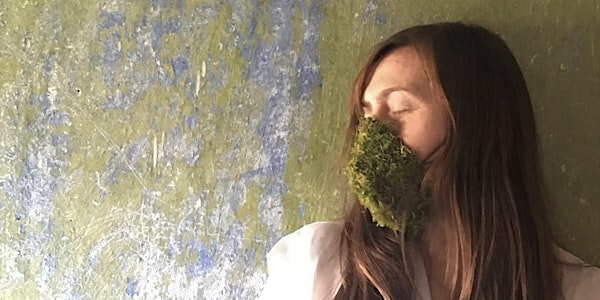 Bealtaine At Home: Of Scent & Song
A fascinating discussion on music, scent, art and memory with artist Ceara Conway, perfumer Erin Quinn and artist Catherine Haley Epstein
Refund Policy
Contact the organiser to request a refund.
About this event
This event accompanies the Bealtaine Festival Commission How Are You? by artist and vocalist Ceara Conway, commissioned by Age & Opportunity, as part of the Bealtaine Festival 2021 and presented in association with Family Carers Ireland.
A fascinating live discussion on the converging worlds of music, scent, art and memory with Ceara Conway visual artist and vocalist, Erin Quinn perfumer and Catherine Haley Epstein, artist, designer, curator and author of Nose Dive.
How Are You? is a new scent artwork by acclaimed visual artist and vocalist Ceara Conway designed in collaboration with olfactory artist Erin Quinn. How Are You? was created in response to Viriditas*, a recent album of contemporary and traditional healing songs by Ceara Conway, originally commissioned by Galway University Hospitals & Saolta University Health Care Group for Galway 2020 European Capital of Culture.
As part of Bealtaine at Home 2021, Age & Opportunity in association with Family Carers Ireland, will send a sensory artwork to over 200 family carers aged 50+ caring for older relatives at home. Each package will contain a specially commissioned scent artwork, a link to Ceara's Viriditas album and an invitation to attend this event 'Of Scent and Song'.
Ceara Conway is an Irish contemporary vocalist and visual artist. She creates innovative experiential performance works that utilise traditional and contemporary songs, music and visual art to explore social issues such as the ecological crisis, migration and feminist concerns. Ceara has undertaken numerous significant commissions, residencies, and public art works. Recent and upcoming projects include Viriditas, Galway ECOC & Saolta Arts (2020), Dóchas/Hope, Oireachtas na Gaeilge & Waterways Ireland (2019). The Feminist Supermarket, Ormston House Cultural Centre (2021), Illuminations Gallery, Maynooth University (2021), Pocahontas Opera House Residency, West Virginia, USA (2022). www.cearaconway.ie
Erin Quinn, originally from Canada, is a visual/olfactory artist. In 1998 Erin moved to Dublin. She studied in NCAD in 2009, had her first solo photographic exhibition in 2010 going on to win the RHA's Curtin O'Donoghue Photography Prize for "Breaking Point" in 2011. In 2014, her piece "Adam" was shortlisted for the inaugural Hennessy Portrait Prize in the National Gallery, Ireland. Her work has been exhibited nationally and internationally with her practice currently focusing on olfactory/scent projects inspired by nature, memory and human connection. www.eqfactories.com
Catherine Haley Epstein is a multi-disciplinary artist, award-winning writer, designer, and curator. She wrote a book titled Nose Dive (2019) which explores the intersection of creativity with the science and anthropology of scent. Articles of note include 'Primal Art: Notes on the Medium of Scent', Temporary Art Review (2016). She writes about contemporary art and practice and culture at her platform Mindmarrow. She conducts workshops on the use of scent in creative practices, advises companies on scent-related projects, and continues to collaborate with artists and writers on unique initiatives that explore intersections between art and other disciplines. Catherine founded the Odorbet in 2020 with Caro Verbeek, and has a monthly scent column titled the 'Olfactory Report' for Aromatica Poetica. Her book and practice has caught the interest of the art, scent and curious community worldwide, traveling to over 25 countries with reviews and interviews in the US and abroad. She is currently a candidate for her Masters with a focus on Psychodynamic Theory at Northwestern University.
Family Carers Ireland is the national charity supporting the 500,000 family carers across the country who care for loved ones such as children or adults with physical or intellectual disabilities, frail older people, those with palliative care needs or those living with chronic illnesses, mental ill-health or addiction.
Our vision is an Ireland in which family carers are properly recognised, supported and empowered. Our mission is to highlight the contribution of family carers to Irish society and to improve the lives of family carers throughout the country. We believe that no one should have to care alone.
*Viriditas by Ceara Conway originally commissioned by Galway University Hospitals & Saolta University Health Care Group as part of The Deepest Shade of Green Programme for Galway 2020 European Capital of Culture.