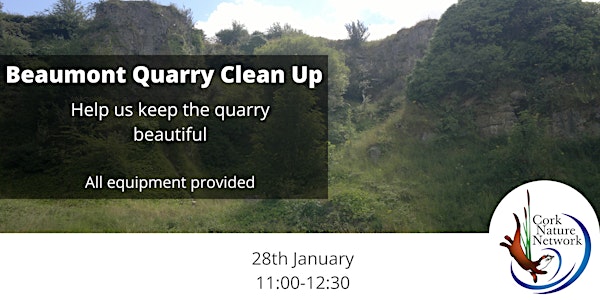 Beaumont Quarry Clean-Up
Beaumont Quarry Clean Up
When and where
Location
Beaumont Quarry & Caves Upper Beaumont Drive Cork Ireland
About this event
Cork Nature Network is running a clean up in Beaumont Quarry on Saturday 28th January at 11:00 am. The end of winter is a great time to get in there to clear litter and cut back bramble and old man's beard. Our efforts help the unique native flora of this site to thrive and provide valuable habitat to a range of animals and insects.
We need some enthusiastic volunteers to help collect litter and cut back invasive flora and bramble. If you have an hour or two to spare, please book your place and meet by the green area near the Beaumont Quarry sign on Beaumont Drive. Rakes, gloves, loppers, bin bags and litter pickers provided. Plus tea and coffee and biscuits.
Caring for Beaumont Quarry is one of our ongoing projects. For more information about the importance of this site as a haven for local biodiversity in the city please visit our website here.
We look forward to seeing you!
#GiveNatureAChance
To support Cork Nature Network:
Become a member: Individual membership is only €10. Concessions €5. Family €20.
Or make a donation
If you wish to find out more about Cork Nature Network, please go to our website or our Facebook, Twitter or Instagram pages.
COVID-19 Information before you come to the park:
All attendees will be required to follow up to date health guidance. Some attendees may wish to wear a mask when gathered outdoors as a group.
Please do not attend the event if you:
are experiencing any symptoms of COVID-19 or are feeling unwell.
are awaiting the results of a COVID-19 PCR or antigen test.
are self-isolating or restricting your movements.
have recently been diagnosed with COVID-19.
are a recent close contact of a person who is a confirmed case of COVID-19.
have been advised by a doctor to isolate or cocoon.
In any of the cases mentioned above please follow the HSE guidelines.
Privacy Statement
This statement relates specifically to your use of this platform. Eventbrite. Data submitted to this platform is processed by Eventbrite (the "Processor"), an Irish company. Information you submit is managed in a GDPR compliant environment and is not transferred outside of the E.E.A. (European Economic Area). You can read more in the Eventbrite Privacy Policy. Any information which you volunteer via this online platform will be treated in accordance with the General Data Protection Regulations (GDPR) and Data Protection Acts, 1988-2018. Data transferred from the Processor to any Sub-Processors will be treated in accordance with the GDPR and Data Protection Acts, 1988-2018. The sub processors (collectively the "Sub-Processors") engaged in the use of this solution is Cork Nature Network.
The privacy statement for Eventbrite can be accessed here.
Cork Nature Network privacy policy can be accessed here.