Description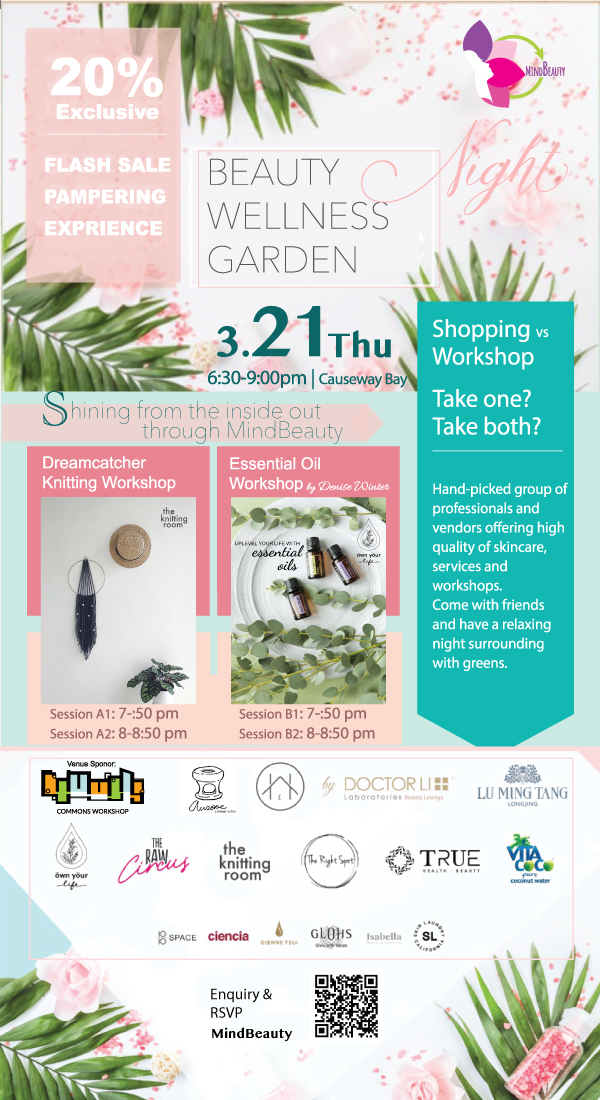 ---
"Shining from the inside out through MindBeauty", our mission is simple!
A night filled with MindBeauty's hand-picked professionals and vendors offering high quality of skincare, services, workshops. Come to enjoy a casual lady's night out at brand new coworking space in Causeway Bay with panoramic sea views of Victoria Harbour.
Date: 21 March 2019
Time: 18:30-21:00
Where: Commons Workshop, Causeway Bay
Entry Ticket: HKD118
[ What's included ]
Each entry ticket is eligible for One person (unless specified)
+ Your choice of ONE Workshop
+ Your choice of one glass of Wine/Beverage
+ Snacks/Night food at your services
+ Experiment FREE pampering services provided by MindBeauty's premium partners
+ Enjoy an exclusive discount on flash sales onsite.
+ Spa vouchers, WIN a prize... plus a goodies bag filled with beauty secrets for the first 80 comers.
Sneak-peek our PAST events.
---
WORKSHOP A
Dreamcatcher Knitting Workshop
D.I.Y. your own modern dream catcher in this 50-min workshop to enhance your beauty sleep!
Session A1: 7 pm to 7.50 pm
Session A2: 8 pm to 8.50 pm
---
WORKSHOP B
Essential Oil Workshop: Natural Solutions for a Healthy Lifestyle
Join Natural Solutions Educator Denise Winter to learn more!
You will receive a free sample and get the chance to win in a lucky draw.
Session A1: 7 pm to 7.50 pm
Session A2: 8 pm to 8.50 pm
WORKSHOP C
Bath Bomb Making Workshop
Make your unique bath bomb by choosing your own color combinations and fragrances, to pamper yourself! A hand-made bath bomb is also a perfect gift to your loved one.
Free flow workshop from 7 pm to 8.50 pm

Seats are limited, RSVP required.
【REMARKS】 No children. Man is welcome too but must be accompanied with girlfriend.