Description
Media has become fixated with the way Muslim women look—what they are or are not wearing, instead of who they are and what they are doing! There is a lack of focus on the achievements of Muslim women, especially those who do not fit a veiled and victimised stereotype.
It's no wonder that Muslim women are now synonymous with words such as submissive, passive, oppressed, victim, voiceless and so on.
They say you learn something new everyday. That the shortest distance between two people is a story or to make a connection all you need to do is ask someone's name. Because really behind those strange names and unique attires, are people just trying to get by whatever life throws at them.
Muslim Sisters of Eire present to you a platform where you can meet Muslim women, listen to their stories and help shatter stereotypes that are presented to you. This one day conference is promised to be full of revelations and discoveries. It's also aimed at opening a channel of communication between an increasingly diverse Irish society.
So have a question? Just ask!
No topic is barred!
Come spend a day with us and change your perception.

---
Keynote Speakers:
Lauren Booth:
Lauren Booth was born and brought up in North London, UK. She trained as an actress at the London Academy of Performing Arts, spending several years touring Europe with regional theatre companies. However, her greatest interest lay in writing and politics and in 1997 she entered the world of journalism. She has enjoyed a broadcasting career spanning twenty years. Working for a variety of news channels including Press TV and Al Jazeera, her ground breaking programs include the interview series 'Face To Face' featuring high level guests such as Baroness Jenny Tonge, UK Labour Leader Jeremy Corbyn and academic Tariq Ramadan. Her 2015 series 'Talking Booth' helped raise the profile of the new British Muslim channel, BMTV.
Lauren Booth now offers UK accredited media training to managerial and executive level employees guiding clients towards improved brand image, message delivery and media crisis management.
With 20 years of experience in the media she will offer a true insight in to media's role in stereotyping Muslim women.
Julie Siddiqi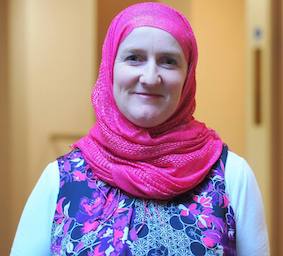 Julie Siddiqi is a mentor, consultant and activist with a focus on gender issues, Jewish-Muslim relations and social action. She has a background in community grass roots work spanning 20 years and founded a local charity for Muslim women's needs which she led for 10 years, gaining an acute knowledge of the personal challenges faced by women. She is an Advisor for the Jewish led social action project, Mitzvah Day and is a Trustee for Muju, a Jewish/Muslim theatre company now in its tenth year.
Julie was the Executive Director of the Islamic Society of Britain from 2010-2014 and led on several high profile campaigns during this period. She spearheaded a national community based campaign against sexual grooming and child exploitation and was pivotal in peace initiatives following the murder of Lee Rigby in Woolwich. She has spoken on many major news programmes including BBC Radio 4 and Newsnight.

Julie was listed in the Times Newspaper 100 Most Influential Muslim Women in the UK list in 2009. Julie is Founder and Director of Sadaqa Day, a one day Muslim-led focus on social action, which was launched in March 2015 and is co-chair of the Jewish and Muslim Women's Network, Nisa-Nashim. Her most recent venture is as Founder of Ansar Muslim Volunteering Network launched in December 2016. Julie converted to Islam in March 1995 and is happily married with four children.
Ruth Coppinger TD
An active member of the Socialist Party which is a part of Solidarity- The Left Alternative (formerly known as Anti Austerity Alliance). The Solidarity/PBP group has 6 members of the Dáil.
Elected as a TD in 2014 in a by-election representing Dublin West which is a constituency with a very diverse population in terms of religion, ethnicity and cultural background.
She was re-elected in the 2016 general election
Prior to being elected as a TD she was a secondary school teacher and a member of the local authority (Fingal County Council) from 2003 to 2014.
Since being elected in the Dáil she has introduced Bills on Repeal of the 8th Amendment of the Constitution, ending religious discrimination in school admissions and ending religious discrimination in employment in schools. Most recently she introduced a Bills to improve the position of tenants' rights, voting rights for immigrants, and citizenship rights.
Ruth is a member of the Housing, Planning and Local Government committee and housing has been a prominent issue raised by her since being elected.
She is a member of ROSA (for Reproductive rights, against Oppression, Sexism and Austerity) which is a group initiated by female members of the Socialist Party.
Her grassroots efforts with the Muslim community, she will offer a rare insight to the reality of Muslim women living in Ireland.
Dr James Carr
Dr James Carr lectures in the Department of Sociology in the University of Limerick. In 2010, he was awarded a three-year scholarship for his doctoral studies from the Irish Research Council to engage in research into racism directed towards Muslim communities in Ireland at the University of Limerick.
He is a well-known speaker on the topics of Islamophobia and anti-Muslim racism in Ireland.
Building on previous scholarly and policy oriented publications, in 2016, James published his book Experiences of Islamophobia: Living with Racism in the Neoliberal Era (London and New York: Routledge) which focused on anti-Muslim racism in Ireland set to the international context.
James has also recently undertaken and published research with the Immigrant Council of Ireland, supported by the Open Society Foundations, entitled 'Islamophobia in Dublin: Experiences and how to respond'.
He is a co-editor on the recently published collection of essays Public and Political Discourses of Migration, London: Rowman and Littlefield; and a contributor to the Yearbook of Muslims in Europe for Ireland for 2015 and 2016.
Dr Carr will present facts related to growing Islamophobia in Ireland.
* Interesting discussion with a panel of young and independent Muslim women,
* Q&A sessions,
and
* Stalls