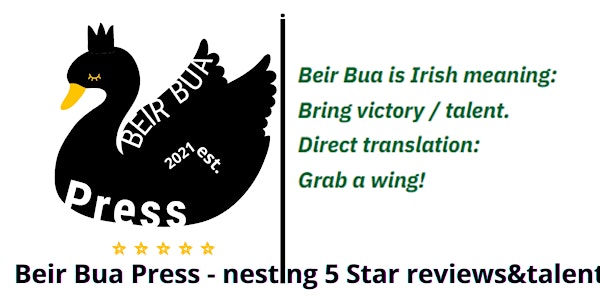 Beir Bua Press August launch - Desmond Traynor and Ashley Bullen-Cutting
Beir Bua Press July launch - Desmond Traynor and Ashley Bullen-Cutting. Hosted by Michelle Moloney King
About this event
Welcome to the July Beir Bua Press August launch. Tonight we have Waterworks by Ashley Bullen-Cutting Winner of Laurence Sterne Prize 2021 and The Most Natural Thing In The World by Desmond Traynor Shortlisted for The Laurence Sterne Prize 2021.
-------------------------Ashley Bullen-Cutting is a writer whose work inhabits the liminal spaces between poetry and prose. His research and writing often concerns the climate crisis and its effects on planetary populations. Some of his previous work can be found at MIROnline, Cauldron, and Perhappened Magazine, where he was nominated for Best of the Net 2020. He recently finished his PhD at University of Sheffield and he now works as a Creative Writing lecturer.
Praise"Waterworks is a rich archive of paradoxical water studies deriving from aqua-philia and aqua-phobia, compulsion and aversion. Eros and Thanatos. Death- and life drive, pushing us, too, to immerse, into the currents of water's catastrophic present and apocalyptic future through a genre bending literary awesomeness; a beautiful liquified collage of poetry, theory and poetic prose written for the planet."Ágnes Lehóczky (Senior Lecturer at the University of Sheffield; her latest poetry collection: Swimming Pool (Shearsman)
------------------------------------------
The Most Natural Thing In The World by Desmond Traynor Shortlisted for The Laurence Sterne Prize 2021
Desmond Traynor is a Hennessey Literary Award winning short story writer, whose stories have been widely published in anthologies and magazines and has been nominated for the Hughes & Hughes/Sunday Independent Irish Novel of the Year Award. He has a Distinction in the M Phil in Creative Writing from Trinity College, Dublin, in 2000. He currently reviews new fiction for The Irish Times: website www.desmondtraynor.blogspot.ie and www.desmondtraynor.com
Praise
"A highly original essay from a master stylist. With brutal honesty Desmond Traynor weaves the enthralling story of his personal experience with philosophical musings on the ethics of reproduction. Provocative, profound, and ultimately very balanced." Éilís Ní Dhuibhne is a writer and critic.
Links
www.BeirBuaPress.com