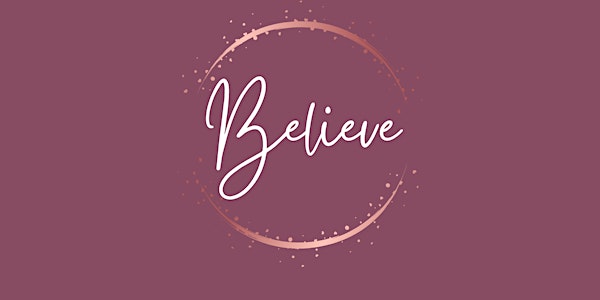 BELIEVE
Real talk, real tools and real insight to inspire, empower & uplift you in 2023.
When and where
Location
Royal Marine Hotel Marine Road A96 K063 Dublin Ireland
Refund Policy
Contact the organiser to request a refund.
About this event
BELIEVE is an inspiring, empowering, and uplifting evening event created to help you welcome the New Year with confidence, compassion and gratitude. Come with your best friends, your mom and sisters or on your own and let's make 2023 your best year.
A few months ago, I wanted to quit life coaching.
Nine years ago, I officially resigned from my old job and began working full-time as a life coach. Life coaching was my dream; I had everything I thought I needed to feel happy. But there I was - ready to give it all up!
I had had enough of being a self-employed working Mom of two. I struggled with self-sabotage, focus, overwhelm, failure and trying to manage the pressure of being a mom. My life was chaotic and wild, and unpredictable. I was an emotional wreck. I spent so long doing what I thought I should be doing and the rest of the time doing what I thought was expected. I was too afraid to reinvent myself, but I was also fed up with trying to be someone I wasn't.
I am in a completely different headspace than I was a few months ago. I knew I had to make a change. My mental health, relationships and business depended on it! Escaping the vicious cycle of self-sabotage helped me to feel confident and calm. As I sit back and think about what I'm most grateful for since the start of the year, I've settled on one thing that has made a difference in my life over and over again.
I'm thankful that I believe in myself.
I created BELIEVE because of my challenges this year: self-sabotage, inauthenticity and fear. I am excited to share all I learned with you during this real and powerful workshop.
If you …
Have set New Year Resolutions after New Year Resolution, and nothing sticks. No matter how hard you try, you can't see things through, and it's depressing.
A niggling voice in the back of your mind that doesn't just stop you from pursuing your goals; it tells you you don't even deserve to.
Feel stuck in the same place: an unfulfilling job, a lacklustre relationship, or a lifestyle lacking fun and fulfilment. Sometimes you feel capable of much more, but a fear of failure forces you to play small.
Find it hard to assert boundaries at work and in your personal life. You constantly say 'yes' to everyone because you are afraid to rock the boat or do something that might upset or disappoint others.
Constantly compare yourself to others and can't stop. It feels like nothing you do is good enough because someone always seems to do it better.
Forget all your accomplishments and lack pride in who you are and what you have accomplished, and you constantly criticise and beat yourself up for not being perfect.
Regularly get stuck in procrastination and perfectionism. You feel like an imposter and struggle to follow through with your goals, give up easily and feel stressed and anxious.
The bottom line is you stand in your own way and sabotage your success, which is exhausting and overwhelming.
Playing small won't help you create the life you want but self-belief will!
I want you to imagine a life in which you are front and centre. You no longer let other people's opinions dictate how you feel about yourself; you could climb that ladder, start that dream business or switch lanes in your career, end a lacklustre relationship or reboot a lifestyle lacking fun and fulfilment.
When you believe in yourself, you can overcome self-doubt and be confident to take action and get things done. You no longer stand in your own!
Believing in yourself is at the heart of everything you do!
Isn't it time you learned effective, evidence-based strategies to help you believe in yourself more?
I have been a life coach for ten years, and in this time, I have had the privilege of working with 1000s of women to support them improve their clarity, self-confidence and self-compassion.
My clients come from every industry and background, from leaders to graduates, self-employed to working-from-home mothers, the Big 4 to family-run to SMEs, and there is one thing all of my clients have in common ...
An always present and often paralysing lack of self-belief.
This lack of self-belief prevents us from tapping into our potential and creating a life we truly want (and love). Success feels out of your grasp when you're drowning in fears, doubts, and self-sabotaging behaviours.
All the skills, training, and tools in the world won't change your life unless you learn to believe in yourself.
Using proven approaches, practical tools and evidence-based concepts, this inspiring event will help you discover how to tap into your potential and look to the year ahead with belief, hope, confidence, compassion and joy.
Together, we'll get to the root cause of your self-doubt, learn how it holds you back, and gradually move past it.
The right mindset is a must to accomplish your New Year's Goals and Resolutions. At BELIEVE, I want to share REAL talk, REAL tools and REAL insights that will help you to feel INSPIRED, EMPOWERED and uplifted in 2023.
Join us at BELIEVE & together we will…
Discover what's holding you back in your personal and professional life and what strategies to overcome it
Learn how to change the narrative from self-doubt to self-compassion and end the constant negative and self-defeating thoughts.
Understand how to escape self-sabotage and become your own advocate for success, happiness and love
Develop practical tools and evidence-based concepts to help you learn to believe in yourself and feel more confident
Learn techniques to stop perfectionism, procrastination, overthinking and over analysing
Discover strategies to manage self-doubt and insecurity
Get ready to tap into your limitless potential
"I don't think this could work for me."
I hear you! So many women I've helped have started right where you are.
They said to me, 'Sarah, can you actually help me believe in myself more?"
Here's what I've found time and again: the women asking these questions are the women who feel they don't deserve to reach their goals in life.
They don't feel they can make a change because "that's the way it's always been".
Can you see a little bit of yourself in them? That's a niggling voice of self-doubt rearing its head, but you can be brave and choose to overcome it.
I want to tell you this, and I truly mean it.
You're worthy of a fulfilled and successful life. It's a scary step, I know.
But it's time to be BRAVE.
Taking this step for yourself can and will change your life.
BELIEVE is an inspiring, empowering, and uplifting evening event created to help you welcome the New Year with confidence, compassion and gratitude. Come with your best friends, your mom and sisters or on your own and let's make 2023 your best year.
What People are Saying
"I attended another of Sarah's workshops in 2019, and I left that event feeling like I could conquer the world, and you don't get that feeling often in life, Sarah gave us all that feeling that day, pure magic."
— Lisa
"I'm a sceptic, and a cynic. Not into "woo-woo" and the stereotypes that go with it....but Sarah and The BLP are the only movements I've paid attention to and related to so deeply. It's practical, sure. There are immediate steps and habits you can take and build upon after leaving the event. But more than that... it shifts your perspective."
— Mary
"Sarah gave me the power to believe in myself and my abilities. Honestly, that course changed me, gave me so much self-belief and worth, and gave me friends for life.."
— Lisa
Isn't it time you finally started to believe in yourself? Aren't you ready to shake off insecurity, self-doubt, and fear once and for all? The time to back yourself is now!