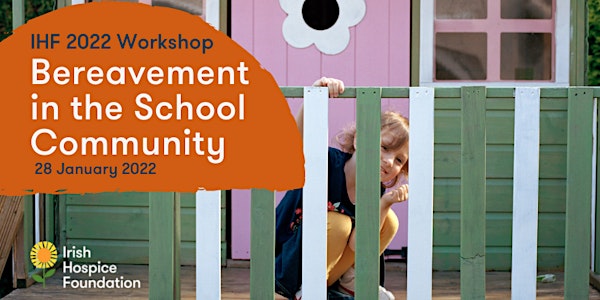 Bereavement in the School Community
This workshop will focus on the key factors involved in children's grief within the school community.
Refund Policy
Refunds up to 7 days before event
About this event
Description
Teachers and school staff are in a unique position to support bereaved children in their class and school community. This workshop will focus on the key factors involved in children's grief, develop an awareness of the role of a teacher and the importance of the wider school community. The workshop will provide opportunities for active discussion and interaction.
Learning Outcomes
On completion of the workshop participants will be able to:
· access an overview of the theories in relation to bereavement
· understand the key factors in relation to children and bereavement
· describe the possible impact of bereavement in a child's life
· understand the role of a teacher and other school staff in relation to a bereaved child in the classroom and the wider school community
Presenter Profile
Anne Staunton (B.A. B.Ed., M.A.) is CEO of Rainbows Ireland since 2008. Rainbows Ireland works to support children and young people with loss resulting from bereavement, parental separation and family change. Prior to 2008 Anne worked as a primary teacher for many years. Anne holds an M.Sc. (Hons) in Loss and Bereavement from the Royal College Surgeons and Irish Hospice Foundation. Recently, Anne has authored the new Rainbows Bereavement and Parental Separation programmes at Primary and Second level and she delivers training in these nationwide. Anne regularly networks with, and presents to other services and people working with children and young people in relation to the impact of parental separation and bereavement. She aims to encourage best practice in the field of childhood bereavement and loss and to bring the voice of the child into the discourse around this topic.