Sales Have Ended
Ticket sales have ended
Thank You for you purchase. We look forward to welcoming you to the Rialto Cinema club!
Sales Have Ended
Ticket sales have ended
Thank You for you purchase. We look forward to welcoming you to the Rialto Cinema club!
BEST BEFORE DEATH -featuring Bill Drummond (Director : Paul Duane) Watch trailer link at bottom of page!
About this event
In 1992, Bill Drummond ceased activities as part of the enormously successful pop group The KLF. Since 2014 he's been on a World Tour, travelling the world with his show - The 25 Paintings - visiting a different city each year. In December 2016 he based himself in Kolkata, while in the Spring of 2018 he was in Lexington, North Carolina. He's not rich and he's deliberately designed his actions so they can't be monetized. He's mostly been ignored by the art world. So what is he doing it all for? Irish Director, Paul Duane shadowed Bill Drummond for three years before starting this film in order to achieve some level of understanding about what he's at.
In each place he carries out his regular work, setting up a shoeshine stand in the street, building a bed in order to give it away, walk across the longest bridge he can find at dawn banging his parade drum, start knitting circles with whoever wants to join him, baking cakes and offering them to people whose houses sit on a circle he's drawn on a map of the city.
Best Before Death is named after Drummond's belief that the World Tour, scheduled to end when he's 73, is a race against his own mortality. It's a film about life, death, art, money, music and cake. And some knitting.
Paul Duane is an Irish writer, producer and director. He has been working as a in film and television for more than 20 years. He has also made several short films including LSD 73!, based on an original script by the Irish novelist Patrick McCabe. The Irish production company Screenworks was established by Paul Duane and Rob Cawley in 2008. Their first feature documentary Barbaric Genius, on the life of the London-Irish author John Healy premiered in February 2011. He is also known for other feature documentaries : While You Live, Shine (2018), Very Extremely Dangerous (2012) aswell as for co-creating well-known TV series such as The Secret Diary of a Call Girl and the drama series Amber.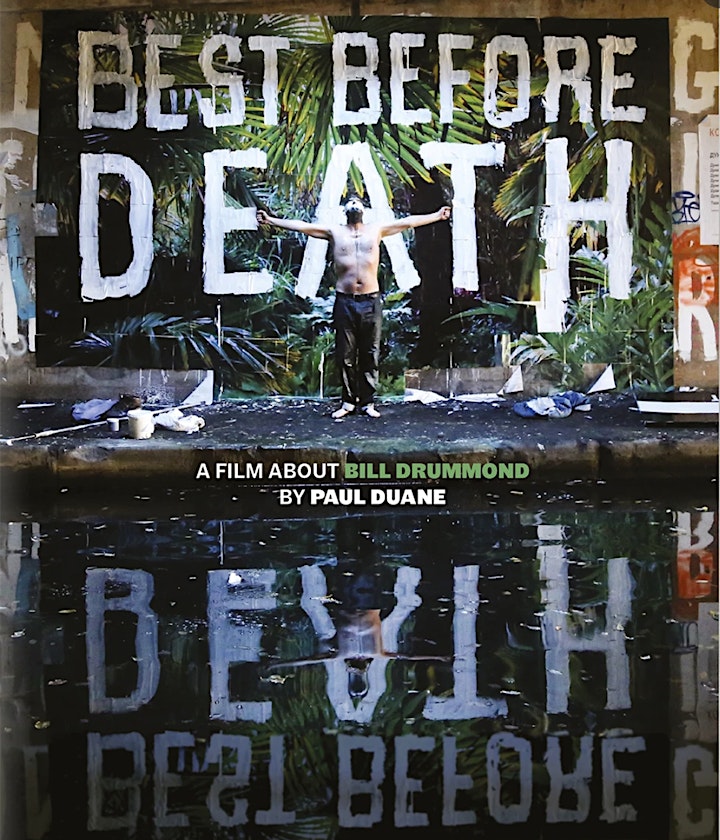 Organiser of BEST BEFORE DEATH (2020 : 89 mins)
The Rialto Cinema Club, in the back room of The Circular, was set up in early 2020 by Jenny Keogh and John McMahon. It managed to squeeze in a few screenings before the world got turned upside down in March of that year. The premise of the weekly cinema night is to show feature length documentary films focusing on music, art and culture, with a lean towards Irish directors and a healthy sprinkling of International directors. It will also show a selection of short documentaries every couple of months. Jenny is a photographer, filmmaker and an avid film festival goer, with a particular passion for the documentary genre, so selecting and programming films is a pure joy and comes easy. John is the events manager at his two D8 venues, The Circular and Luckys – everything from art exhibitions, pottery classes to pub quizzes, so it was an absolute no-brainer to merge their skills to create a weekly cinema event in their local Dublin 8. Jenny's line up of films for the September/October program is setting the bar high. The November/December program is coming soon. And here's hoping we'll have a free run to keep the doors open into 2022!
Biweekly on Tuesdays 8.30pm – Launching 7th September 2021
Tues 7th Sep: PJ HARVEY - A Dog Called Money (Dir. Seamus Murphy)
Tues 21st Sep: SHOW ME THE PICTURE - The Story of Jim Marshall (Dir. Alfred George Bailey)
Tues 05 Oct: BEST BEFORE DEATH (Dir. Paul Duane)
Tues 19 Oct : HENRY GALSSIE - Field work (Dir. Pat Collins)
Tues 26th Oct : THE BLAIR WITCH PROJECT (Special Halloween Screening)