A Courage and Renewal retreat that can renew hearts, minds and spirits while exploring our inner and outer landscapes and human wholeness
About this event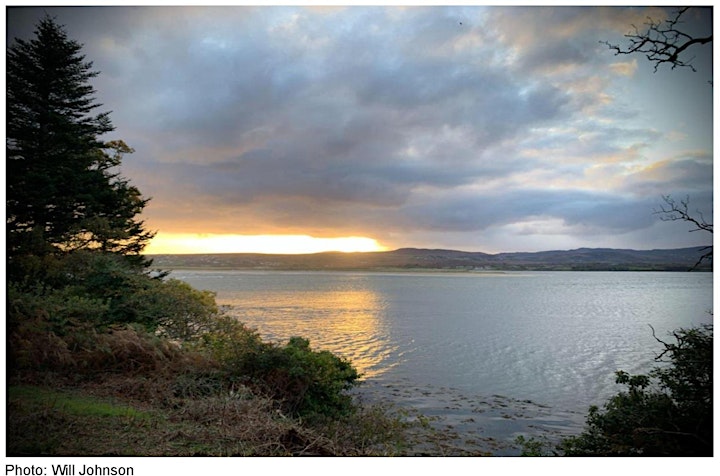 "We plant seeds in the ground and dreams in the sky…..Look up. Stay awhile. Let your breathing slow. Know that you always have a home here." Alberto Ríos
Times of ever-changing uncertainty in our world invite us to find places we can call home for ourselves...places of sanctuary where we can connect with what roots us, gives us stability and supports us to reach out and grow. For many of us, being disconnected from the natural world through our busy lives, leaves us floundering as we lose our sense of place and grounding, our sense of home and belonging on this earth. In the same way, we can live disconnected from the inner nature of our souls, where we lose touch with what deeply nurtures us.
We invite you to take time out...to come home to that space between Earth and Sky where we will explore our connections with the land, the sea, and the trees, as metaphors on the journey towards finding our Hidden Wholeness.
During this Courage & Renewal Retreat, the Circle of Trust® approach, pioneered by Dr. Parker J. Palmer and developed through the Center for Courage & Renewal, will be used. The Circle of Trust® offers a safe, confidential, and sacred space where we can rediscover the soul in its native landscape and begin to recover our natural wholeness.
This Courage and Renewal Retreat invites us into time and space where we can:
● engage at a deep level with our true selves and the questions that might be alive in our lives
● renew our hearts, minds and spirits by exploring our inner and outer landscapes
● embrace our gifts and limitations, our light and shadow, our brokenness and wholeness
● experience the principles and practices of the Circle of Trust approach
● connect with the support of the group, listen to others and be listened to and witnessed
● arrive where we need to be and not in any set place.
We will be together as individuals and as a community in a way that honours both our solitude and togetherness. Everything is invitational in large and small group conversations, with time for journaling, reflection, listening, sharing and silence. The landscape and nature around us will be a resource for our work. We will draw on poems, stories, music and wisdom traditions to inspire our journey towards wholeness. We will have the opportunity to experience a Clearness Committee - a group discernment process that supports the individual to access their own inner teacher and wisdom.
Who is this for?
This retreat welcomes anyone who would like time to reflect on their inner life and role in the world. If you are curious about or seeking to engage with 'true self' and "hidden wholeness", in support of living a more fully authentic life, then this retreat may be for you.
Venue:
Ards Retreat Centre is a Christian spiritual retreat centre, located on the Wild Atlantic Way in Co.Donegal, and is nestled in 200 acres of woodland on the shores of Sheephaven Bay. For more information see http//www.ardsfriary.ie.
Accommodation at Ards Retreat Centre is simple, comfortable and cosy with shared facilities. Bedrooms have a double or single bed with a wash- hand basin. Showers and toilets are beside the bedrooms. Meals are full and hearty, and the cooks will do their best to accommodate specific dietary requirements.
Arriving early or staying on:
If you wish to arrive early or stay on please contact the Retreat Centre directly on tel: 00353 74 91 38909 or e mail: info@ardsfriary.ie
Cost:
Retreat fee: €400.00 plus booking fee.
Please note that full payment of the retreat fee is required when booking.
A limited number of small bursaries is available, by way of a refund. To apply, please email Mary at suaimhneasmary@gmail.com or Rita at ritamcnulty0@gmail.com BEFORE you register.
The fee includes:
● simple, comfortable accommodation for two nights, in single rooms with shared bathroom/shower facilities.
● delicious wholesome meals during our retreat time (breakfasts, lunches, dinners). (Note that the Centre will do their best to cater for specific dietary requirements, if possible.)
● facilitation by skilled facilitators prepared by the Center for Courage & Renewal
Cancellations:
Payment is required at the point of registration. You may cancel your registration up to 22nd April 2022, with full refund, minus booking fee of €20.28. No refund available on cancellations after this date. In the unlikely event that, due to unforeseen circumstances, the retreat must be cancelled by us, we will refund all fees paid by participants. Our liability is limited to refunding only the retreat fee. We recommend participants have adequate insurance to cover any cancelled travel or personal expenses.
Facilitators:
Caryl Casbon, a facilitator through the Center for Courage & Renewal, co-created programs dedicated to exploring the inner life, including: A Geography of Grace, Befriending the Unknown, The Soul of Aging, and The Anamcara Project Storybook for the Sacred Art of Living Center. She works as an interfaith minister and spiritual director, and has led retreats for clergy, health care providers, and educators for over 25 years. She is also a poet & writer, author of: The Everywhere Oracle: A Guided Journey Through Poetry for an Ensouled World (Wyatt-McKenzie Publishing, 2015), finalist for the National Indie Excellence Awards, and recognized as one of the top spiritual writers for 2017.
Kirstin Anglea, a facilitator with the Center for Courage and Renewal, believes in the power of reflective practice and story catching as a vehicle for personal transformation. She is an educational practitioner who has witnessed the power of this contemplative and communal work for individuals and communities. As founding member of Nourish Courage, Kirstin provides mentoring, coaching, and retreat facilitation to groups and individuals striving to live and work aligned with their core values. When not working, you'll find Kirstin kayaking, exploring the wilderness, singing or cooking with her family in Sisters, Oregon.
Mary Manning has worked as a Special Education teacher, Complementary Health Therapist and in the Health Food business. Following her retirement and in preparation for her own ageing process, she studied for four years, with the Sacred Art of Living Centre. This included the Sacred Art of Living and Dying, the Anamcara Apprenticeship and the Art of Spiritual Eldering. Mary is currently completing the Facilitator Preparation Programme with the Center for Courage and Renewal. She is a long-time practitioner of Yoga and 5 Rhythms® Movement Meditation practice.
Rita McNulty worked in education, youth work, overseas development and the public and civil service. She is a long-time practitioner of 5 Rhythms® Moving Meditation practice and after her retirement in 2013 she pursued her interests in re-joining soul and role, aging and end-of-life spiritual care. Rita completed The Sacred Art of Living and Dying Programme, the Anamcara Apprenticeship, and the Art of Spiritual Eldering with the Sacred Art of Living Centre, a four-year programme. She is currently completing the Facilitator Preparation Programme with The Centre for Courage and Renewal.
Booking:
The maximum number of participants is 20. There are two parts to booking. First, please Register above by pressing the green button, filling the form and submitting with payment. Second, when we receive your registration, we will contact you by email, with further information, and a request to complete a brief Personal Statement about your expectations and any needs you may have, including your dietary requirements.
Queries:
If you have any queries about the retreat, please contact Mary Manning on 00353 87 2421330 or e-mail suaimhneasmary@gmail.com, or Rita McNulty on 00353 87 6295453 or e-mail: ritamcnulty0@gmail.com.
The Center for Courage & Renewal and its facilitators do not discriminate on the basis of gender, marital status, family status, sexual orientation/identity, religion, age, disability, race and membership of the Traveller community.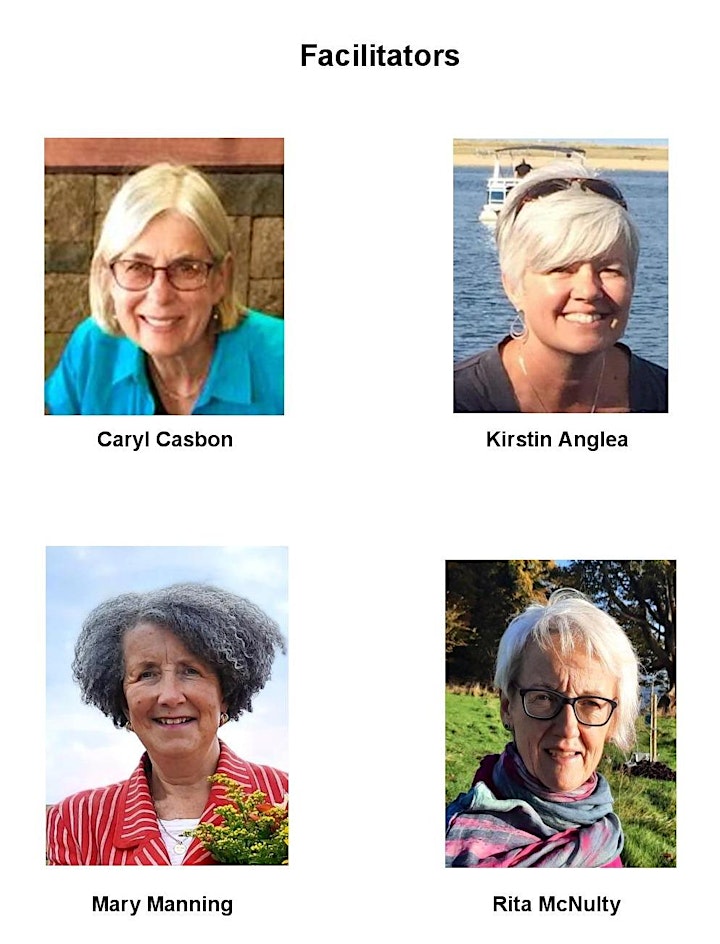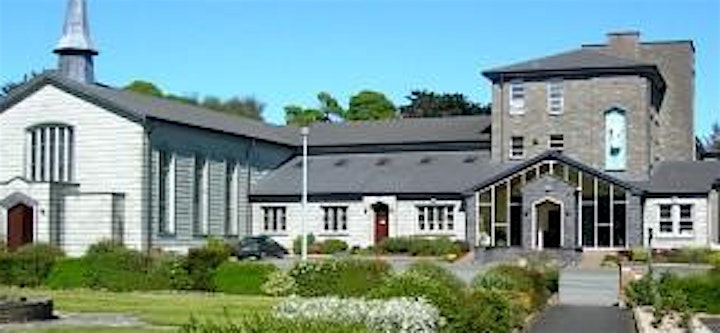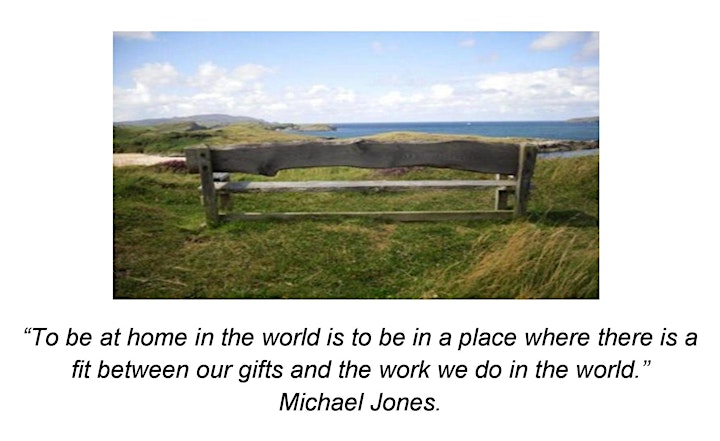 Organiser of BETWEEN EARTH AND SKY Unearthing our Hidden Wholeness