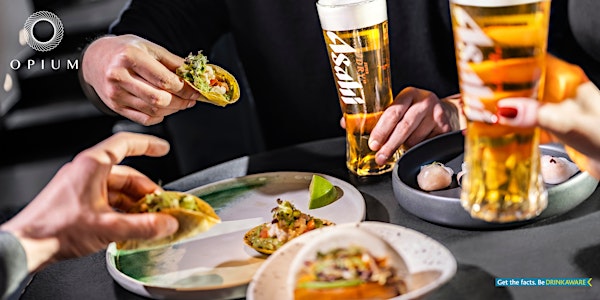 Beyond Expected Tasting Event by Asahi Super Dry a
'Beyond Expected' Tasting Event by Asahi Super Dry at Opium Botanical Garden
When and where
Location
Opium 26 Wexford Street D02 HX93 Dublin 2 Ireland
Refund Policy
Contact the organiser to request a refund.
About this event
Japan's No.1 Beer Asahi Super Dry is to be celebrated in a 'Beyond Expected' tasting event this November at Opium Botanical Garden.
The event will run across two sittings on the night – the first at 17:30pm and the second at 20:30pm. The earlier sitting includes a hosted Karaoke session. The second sitting will feature a Live DJ set with Marcus O'Laoire (all guests are welcome).
Each guest will be invited learn the unique way to pour Asahi Super Dry at the two-part pour station.
Guests will also indulge on a ten-course Yakitori Omakase tasting meal paired with Asahi Super Dry beer and hosted by chef Florian Vass.
Yakitori is traditional Japanese bar food that's akin to chicken skewers but with more vibrant flavors. Omakase means selected by the chef. When combined together, these words mean a multi-course casual-style meal paired with Asahi Super Dry beer. Guests will experience a traditional meal using the best Irish free-range chicken, cooked live over Binchotan Charcoal on Konro grills.
During the evening, guests will experience the refreshing taste of modern Japan, with Ireland's top Asian beer Asahi Super Dry.
Brewed to the authentic Japanese recipe, Asahi Super Dry is well known for its signature two-part pour. When Asahi Super Dry was introduced, it brought an entirely new genre of beer to Japan, and then to the world. Asahi Super Dry delivers a dry, crisp taste and quick, clean finish.
Tickets cost €54.00 for the 17:30 sitting (includes Karaoke) and €49.00 for the 20.30 sitting
About Asahi Super Dry
Asahi Super Dry was first created in 1987, redefining the beer category and introducing to the world a new taste in beer. Today, Asahi Super Dry is Japan's No.1 beer and we are proud that our innovative brand has become a global icon of progressive Japan. Asahi Super Dry is brewed with precision to the highest quality standards, under the supervision of Japanese master brewers. Our advanced brewing techniques deliver a dry, crisp taste and quick, clean finish. We're constantly innovating at our brewery to improve production technology and quality management. This commitment to progressive brewing will help us share Asahi Super Dry with the whole world. For further information, visit https://www.asahisuperdry.com/en-gb/home/ or the Asahi Super Dry Instagram.