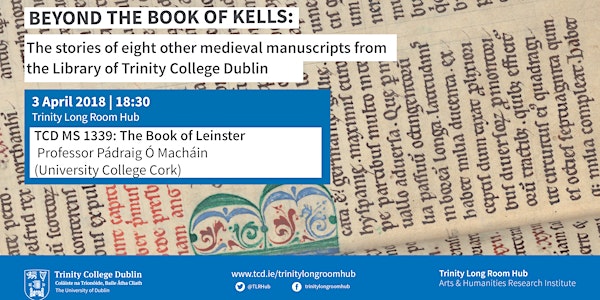 Beyond the Book of Kells: The Book of Leinster
Event Information
Location
Trinity Long Room Hub, Trinity College
Dublin
Ireland
Description
This lecture is part of a series entitled "Beyond the Book of Kells: The stories of eight other medieval manuscripts from the library of Trinity College Dublin."

In this talk Professor Pádraig Ó Macháin from University College Cork will discuss TCD MS 1339: The Book of Leinster. The Book of Leinster contains the largest collections of Irish myth and history from before the twelfth century, including one of three surviving copies of the Táin and the earliest personal letter in Irish. Copied in Terryglass, county Tipperary, by Áed Ua Crimthainn, a scribe acknowledged by his contemporaries as primsenchaid Laigen, Leinster's premier historian, the manuscript is an unparalleled witness to Irish learning before the arrival of the English.

Further Information

To over 600,000 visitors a year, Trinity is synonymous with the Book of Kells. But that ninth-century manuscript is only part of the story. Ranging in date from the fifth century to the sixteenth, and with origins from across Western Europe, Trinity's six hundred medieval manuscripts contain languages from Latin and Greek to Old Irish, Old English, Welsh, German, Dutch, Spanish, Italian, Provencal, and Vaudois. The texts embody in microcosm the entire gamut of medieval thought. This series of lectures from manuscript experts – Irish and international – will offer the public an opportunity to encounter eight other extraordinary books from Trinity's collections, from the ninth-century Book of Armagh to a key manuscript of one of the great medieval English poets, William Langland.

The "Beyond the Book of Kells" lecture series is lead by Dr Mark Faulkner of Trinity College's School of English. It is held as part of the Manuscript, Print, and Book Cultures research theme, in association with the Trinity Long Room Hub, the Faculty of Arts, Humanities, and Social Sciences, and the Library of Trinity College Dublin.

The manuscripts have been digitised to coincide with this lecture series. For more information, please click here.

Date and time
Location
Trinity Long Room Hub, Trinity College
Dublin
Ireland