Beyond the Pastoral: Freedom, Refuge, and Belonging on the Farm
Celebrating freedom, refuge, and belonging in nature through the writing of Bessie Head and award-winning poetry of Tjawangwa Dema
About this event
Join us to celebrate farms and transformative relationships with the natural world, inspired by the life and writing of Bessie Head, and the award-winning poetry of Tjawangwa Dema.
About the Event
The event begins with a guided stroll around the beautiful Bath City Farm site, with short readings from the work of Bessie Head and reflection on the pleasures and politics of farming. Born under South Africa's oppressive apartheid regime, Bessie Head sought refuge in rural Botswana in the 1960s. It was here she became involved in cooperative farming. In her essays and fiction, she writes about the challenge of conserving water, restoring tired soil, and growing crops that would sustain the community in a challenging desert environment. Growing food, for Head, was an act of resistance against racism, and a way of gaining independence for the whole community. It was also intimately connected with recovery from trauma and her struggle with mental illness. As more people are exploring links between nature and wellbeing, we turn to Head's writing to consider the farm as a place of refuge where, as Head puts it, one discovers the 'oneness of the soul with all living things'.
We then take a pause in Bath City Farm's airy shelter to enjoy a reading from award-winning poet, Tjawangwa Dema.
Tjawangwa Dema will read from her collection, The Careless Seamstress, which won the Sillerman First Book Prize in 2018 as well as excerpts from her forthcoming chapbook, an/other pastoral, which explores ethnicity and the environment in an inventive, boundary-breaking collection that grapples with race, gender and belonging. Land and labour converge with history, climate crisis and the afterlife in the lyrical, rebellious poetry.
Tjawangwa Dema is a Motswana poet and educator. She is the 2018 recipient of the Sillerman First Book Prize for The Careless Seamstress. Her chapbook Mandible was published as part of the African Poetry Book Fund's first New-Generation Poets Box Set series. TJ is an alumna of the HarperCollins Author Academy, a 2012 IWP Fall Resident and sits on multiple poetry festival/institute boards. A key partner in the African Poetry Libraries initiative TJ holds an MA in Creative Writing and has given readings and facilitated workshops in over twenty countries. Her poetry, and essays on poetic pedagogies, have been featured or are forthcoming in various publications, most recently New Daughters of Africa, Botswana Women Write and a Modern Language Association Options for Teaching Volume. An Honorary Senior Research Associate at the University of Bristol, Tjawangwa co-produces the Africa Writes – Bristol festival. A chapbook, an/other pastoral, coming out of a project exploring ethnicity and the environment, is forthcoming in 2022. Interspersed with striking, monochrome illustrations by Tebogo Cranwell, an/other pastoral is a beautifully defiant collection that moves curiously and carefully between the human and other-than-human.
This event is part of the Being Human festival, the UK's only national festival of the humanities, taking place 11–20 November 2021. Led by the School of Advanced Study, University of London, in partnership with the Arts and Humanities Research Council and the British Academy. For further information please see beinghumanfestival.org.
This event is associated with Bath Spa Universities Research Centre in Environmental Humanities. Find out more about the RCEH.
Image above: Bessie Head in front of her house
Image below: Tjawangwa Dema (credit Petra Rolinec)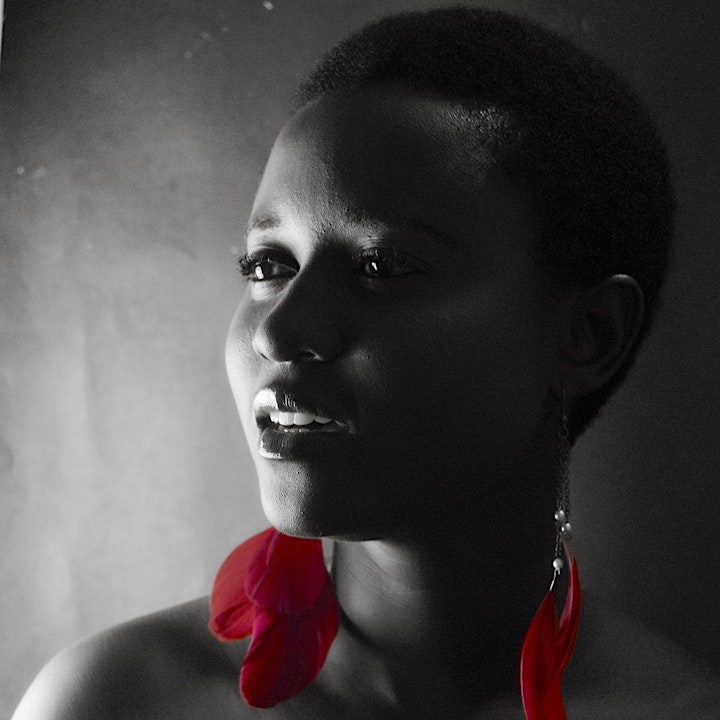 Organiser of Beyond the Pastoral: Freedom, Refuge, and Belonging on the Farm