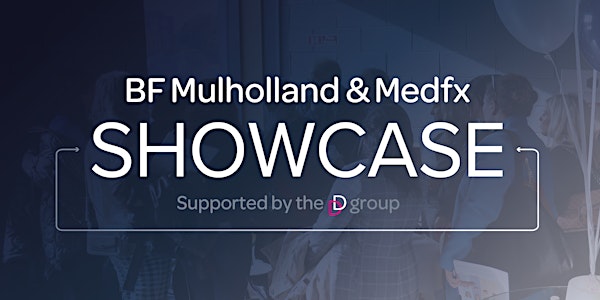 BF Mulholland & Medfx Showcase 2023
Join BF Mulholland and Medfx in Newry for their second Showcase Event!
Date and time
Fri, 19 May 2023 10:00 - 16:00 BST
Location
Canal Court Hotel Merchants Quay Newry BT35 8HF United Kingdom
About this event
This event will be held on Friday 19th May 2023 at the beautiful Canal Court Hotel & Spa, Newry.
This will be an action-packed day, with live product demonstrations, product launches and speakers for both Dental & Aesthetics. This free event will give you the opportunity to catch up with our sales, equipment & engineering, pharmacy and Medfx team as well as getting to know a wide range of our fantastic suppliers.
Speakers:
Dr Michael Crilly (Cusp courses)
Aine Larkin (Younique aesthetics)
Katie Emberley (Gateway to Aesthetics, DD group)
Suppliers:
- Medfx
- Unodent with Andy Davies
- GC
- Coltene
- DD Ortho
- Bossklein
- Philips
- Septodont
- Sunekos with Anna Gunning
- 3M
- Deso
- Young innovations with American Eagle Instruments
- Sendoline
- Croma
- Galderma
- W&H
- BTL Aesthetics
- Envista
- DD Training & Compliance
- Voco
- AestheticDocs
- Kulzer
- Teoxane
- Curaprox
- Dexis
- MiTec
- Younique Aesthetics
- Dr Bonny
- Hamilton Fraser
- Cosmed
Do you have an interest in transitioning into Facial Aesthetics? This event could be your gateway into the aesthetics industry. We have high profile key players and manufacturers attending for top quality product demonstrations and any questions you may have. Our pharmacists are on hand for regulatory discussions, bringing their expertise and guidance for keeping your practice in check.
If you are just interested in dentistry, not to worry, our digital specialists are keen to talk you through some excellent dental equipment. Any consumable product questions will be answered by our sales team and we have a wide range of dental suppliers who are keen to demonstrate the latest innovations in the dental industry.
Keep your eyes peeled for more info coming soon...