Bí ag Spraoi Liom!" - with Sadhbh Devlin (suitable for 5 to 8 year-olds)
Author Sadhbh Devlin will read her picturebook 'Bí ag Spraoi Liom' and discuss inventions and creativity with the children. (5-8 year-olds)
About this event
Author Sadhbh Devlin will read her picturebook 'Bí ag Spraoi Liom' and afterwards discuss inventions and creativity with the children. The children will then have a chance to design their own inventions. The event is bilingual in English & Irish.
Léifidh Sadhbh Devlin, údar 'Bí ag Spraoi Liom', a scéal agus pléifidh sí cruthaíocht agus cumadóireacht leis na páistí. Beidh deis ag na páistí a chumadóireacht féin a dhéanamh agus measín dá cuid féin a dhearadh. Tá an imeacht seo dhátheangach.
Sadhbh Devlin is the author of three Irish language picturebooks. Bí ag Spraoi Liom! (Illustrated by Tarsila Kruse), Beag Bídeach and Geansaí Ottó (both illustrated by Róisín Hahessy). She also likes making crafts and helping to create television programmes for TG4! You can see her currently on Cúla 4 Ar Scoil!
Tá trí pictiúirleabhar scríofa ag Sadhbh Devlin; Bí ag Spraoi Liom! (maisithe ag Tarsila Kruse), Beag Bídeach agus, a leabhar nua, Geansaí Ottó (maisithe ag Róisín Hahessy). Is breá lei bheith ag déanamh lámh-cheardaíocht agus ag cabhrú le cláracha teilifíse a chruthú do TG4. Is féidir leat í a fheiceáil ar Cúla 4 ar Scoil faoi láthair!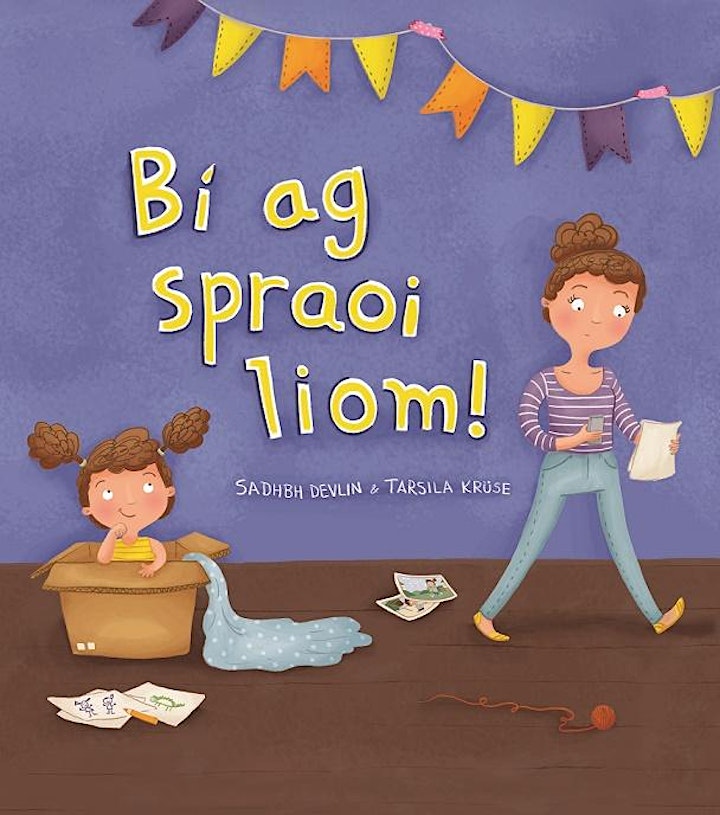 Organiser of Bí ag Spraoi Liom!" - with Sadhbh Devlin (suitable for 5 to 8 year-olds)
Inchicore Library is one of Dublin City Public Libraries. We are situated temporarily at Richmond Barracks, Bulfin Road Dublin 8, while the Library at Emmet Road is being refurbished. We host free cultural, literary and heritage events for the public, both adults and children. Our vision: "Dublin City Libraries are trusted places that nurture curiosity so that opportunity, ambition and imagination flourish."