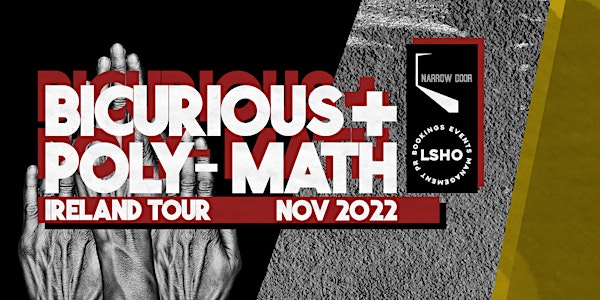 Bicurious + PolyMath - Special Guest Vernon Jane - Live in Cork
Dublin-based instrumental rock duo Bicurious are taking Brighton experimentalists Poly-Math on a co-headline tour of their little island.
When and where
Location
Fred Zeppelins 8 Parliament Street T12 E299 Cork Ireland
About this event
BICURIOUS
Bicurious are Gavin Purcell and Taran Plouzané; a confused, loud, experimental two-piece from Dublin, Ireland and Brest, France.
They released their debut album '(re)constructed' on the 30th of July, to critical acclaim from the likes of Metal Hammer, Noizze UK and Distorted Sound Magazine. They see it as their most ambitious and accomplished work yet, as it thematically follows a timeline of events highlighting the members' dramatic life changes in the last 3 years.
"You know you're doing something right and genre-spanning with your music when the playlists pair you with stoner-rock, blues, math-rock and even tunes for cycling."
- Rolling Stone India
"As you'd expect from a Bicurious track, Deconstructed features Taran Plouzané proving once again why he is one of the best guitarists the country has ever produced."
- Goldenplec
"It's technically impressive throughout – but the pair's well-honed melodic and dynamic sensibilities ensure it's catchy as hell, too."
- Guitar World (on Palapalapa)
- Noizze (UK)
"We feel the most fitting description is totally intoxicating, mosh-pit enticing, very tasty headbangery. "
POLYMATH
Poly-Math are an instrumental Prog/Math band based in Brighton and London, and have been a mainstay at avant-garde music Festival, ArcTanGent since 2013.
The band have produced several EP's, an Album and one Double Album each one a concept piece revolving around revolutionary artworks or historical events.​