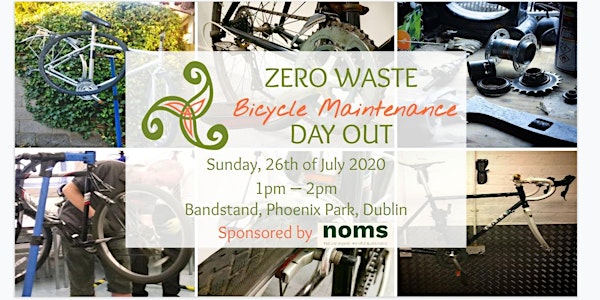 Bicycle Maintenance - Zero Waste Pop-Up Event
Cycling is an environmentally friendly mean of transport, but how to make cycling as zero waste as possible - join us to learn it from Mark.
When and where
Location
Phoenix Park - bandstand Phoenix Park Dublin 8 Ireland
About this event
Please ensure that you bring a face covering. This workshop will comply with all Covid 19 safety precautions. Hand santisation will be provided but please bring gloves. We will also be implementing contact tracing.
A bicycle maintenance workshop focussing on the everyday checks and adjustments needed to keep a bike running safely and smoothly, with an emphasis on making the most environmental choices. Keeping a bike in ideal condition can mean a couple minutes of maintenance bi-weekly, so keep this in mind when considering if this workshop is for you.
Depending on available time and interest of participants, the class can include:
- A full check of the bikes present on the day – learning names of parts, checking for rusted-in components, loose bearings, and worn parts.
- A focus on the brakes: a 4-step check/setup system for any of the styles of brake that are present on the day, how to adjust them over time and maximise component lifespan.
- Tyres and inner tubes: Checking tyre condition and pressure, reading tyre and tube sizes, removing and fitting tyres and tubes, tube patching.
- A basic introduction to the gears on a bike: troubleshooting sloppy gear shifts, chain maintenance, and general cleaning.
All those attending should bring their own bike to work on, any relevant tools they might have to practise with those specific tools, wear clothes which can get a little dirty, and possibly bring something to kneel on for when we are working on the bikes, in particular the brakes, especially if they are not comfortable kneeling on the ground, squating or bending over.
Mark has been working with bikes, voluntarily and professionally, for over 6 years, always with a focus on repairing over replacing, and working systematically to get ideal and consistent results. His current work includes refurbishing discarded bikes and running public maintenance classes, certified mechanics courses, creative reuse of bike part workshops, and private adult cycling lessons.
This event is organised by the Zero Waste Festival Ireland team as the first socially-distanced mini event. Check out our website https://www.zerowastefestival.ie/ or social media for more info.
This event is sponsored by Noms - a zero waste healthstore in Phibsboro - now providing cycle delivery!