Cet événement est terminé.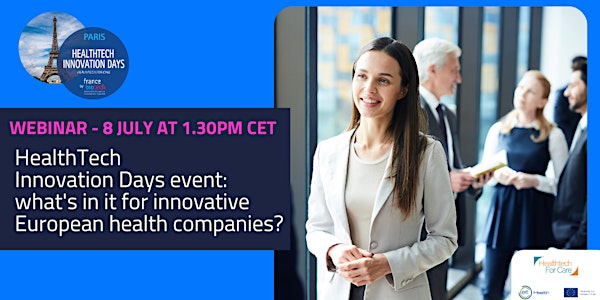 HTID event: what's in it for innovative European health companies?
Attend this webinar to learn what opportunities the HealthTech Innovation Days event can bring to innovative European healthcare companies.
À propos de cet évènement
>> Streamed live on EIT Health's Youtube channel
The HealthTech Innovation Days (HTID®) conference provides a platform for promising European life sciences companies to engage in partnering discussions and meet with a large cast of international, specialised healthcare investors with the aim to accelerate their growth and bring innovation to all patients faster.
The conference will take place 4 & 5 October 2021 in a hybrid format, combining in-person presentations, panels and one-on-one meetings in Paris with a seamless virtual platform to increase worldwide connections.
Join the event if you are a(n):
👉 Biotech company developing treatments currently in clinical trials.
👉 Medtech company developing technologies close to or on the market.
👉 A company developing innovative products & services requested by healthcare partners.
👉 E-health company with a product developed or under development with partners (hospitals, pharmaceutical companies, industrials...).
👉 Investor looking to meet selected companies
👉 Pharmaceutical group looking to develop new partnerships
Join our webinar to learn more about HTID, the event you don't want to miss!
Speakers:
Ms. Maryvonne Hiance, Chairman, HealthTech For Care
Dr. Kurt Höller, Director of Business Creation, EIT Health
Mr. Eric Halioua, President & CEO, PDC*Line Pharma
Mr. Eric Falcand, Vice-President for Business Development and Licensing, Servier
Mr. Stephan Christgau, Managing Partner, EIR Ventures
>> Streamed live on EIT Health's Youtube channel