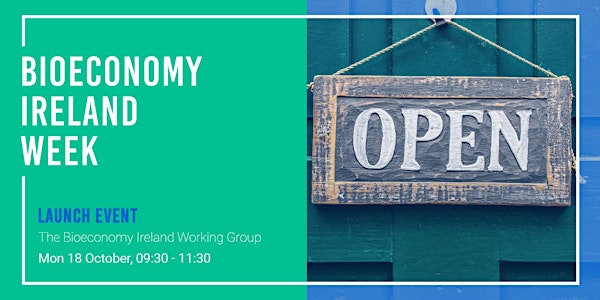 BIOECONOMY IRELAND WEEK 2021 LAUNCH EVENT
Bioeconomy Ireland Week 2021 will be launched by Martin Heydon TD, Minister of State DAFM and Ossian Smyth TD, Minister of State DECC
About this event
The Bioeconomy Ireland Week 2021 launch including the launch of the bioeconomy interactive map will be followed by a roundtable discussion and workshop focusing on both current opportunities and future education, training & skills needs to support bioeconomy development in Ireland.
The roundtable and workshop details will feed into bioeconomy policy development and the preparation for availing of sustainable and innovative opportunities, climate action and just transition.
Speakers on the day include:
Martin Heydon TD, Minister of State with responsibility for Research and Development, Farm Safety and New Market Development, Department of Agriculture, Food & the Marine
Ossian Smyth TD, Minister of State with responsibility for Communications and Circular Economy, Department of the Environment, Climate and Communications
Helena McMahon Munster Technological University, BIOBEC EU funded project
Billy Goodburn Irish Cooperative Organisation Society, Fields Erasmus + project
A panel discussion will involve:
Shauna Dunlop SOLAS
Vivienne Patterson Higher Education Authority
Mark Jordan SkillNet Ireland
Frank Murphy, Teagasc Education
Mariana Cerca, AgRefine Marie Curie Project
Henry Lyons, NutraMara
The event host will be Helen Carroll, Broadcaster
The event will also involve a one-hour workshop that will seek feedback from all participants at the workshop.