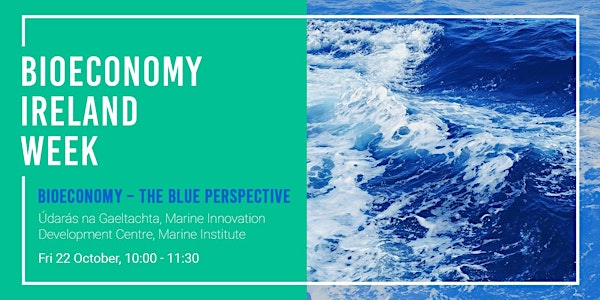 Bioeconomy- The Blue Perspective
Bioeconomy - The Blue Perspective/Bithgheilleagar - An Léargas Gorm
About this event
What is the Blue Bioeconomy? Who are the people working on it in Ireland and where do they get support? Want to learn more about the innovative researchers and businesses operating in this sector in Ireland?
Join us for the launch and first in our series "Bioeconomy-The Blue Perspective", hosted by Marine Scientist and Influencer Finn Van Der Aar from Saltwater Stories.
This event is organised by the Páirc na Mara Marine Innovation Development Centre, Údarás na Gaeltachta and the Marine Institute as part of Bioeconomy Ireland Week.
This is an informative event showcasing what the blue bioeconomy is, the relevant supports available to you and an overview of projects and businesses already operating within the blue bioeconomy.
Cad é an Bithgheilleagar Gorm? Cé hiad na daoine atá ag obair sa Bithgheilleagar Gorm in Éirinn agus cá bhfaigheann siad tacaíocht? Ar mhaith leat níos mó a fhoghlaim faoi na taighdeoirí agus na gnó nuálacha atá ag feidhmiú san earnáil seo in Éirinn?
Bí linn don seoladh agus don chéad imeacht sa tsraith dar teideal "Bithgheilleagar - An Léargas Gorm", le bean an tí, an tEolaí Mara, Finn van der Aar ó SaltwaterStories.
Is é Ionad Forbartha Nuálaíochta Mara Pháirc na Mara, Údarás na Gaeltachta agus Foras na Mara atá ag eagrú na hócáide seo mar chuid de Sheachtain Bhithgheilleagair na hÉireann.
Beidh go leor eolais le fáil ag an ócáid seo a thabharfaidh léargas ar an mbithgheilleagar gorm, na tacaíochtaí ábhartha atá ar fáil duit chomh maith le heolas faoi thograí agus faoi ghnóthaí atá ag feidhmiú sa mbithgheilleagar gorm cheana féin.