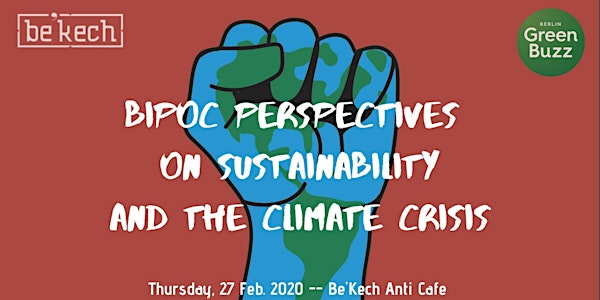 BIPoC Perspectives on Sustainability and the Climate Crisis
When and where
Location
Be'Kech Exerzierstraße 14 13357 Berlin Germany
Description
The climate crisis is more urgent than ever and at the top of political agendas all over the world. The discourse we hear predominantly in Western media is that of protecting the planet for future generations, though many Black, Indigenous and People of Color (BIPOC) communities are already facing consequences of the climate crisis and have been for decades. Decolonization reminds us of the historical injustices that have led our planet to the state it is currently in. Communities that are least responsible for the climate crisis face a higher and disproportionate degree of the consequences brought about by climate change and global warming. Ironically, many of the sustainable solutions we see being promoted in our capitalist society are things that these BIPOC communities have practiced for generations – land regeneration, zero waste, etc. And disappointingly, international sustainability governance fails to properly include and prioritize the voices of these marginalized communities who are most affected.
As such, this event will make space for BIPoC thoughts, experiences, and understandings when discussing sustainability and the climate crisis. Please note: this event is open to everyone -- it is an evening to hear from activists, researchers and from one another on how BIPoC are navigating the sustainability movement and how to better prioritize the needs of those most affected by the climate crisis.
TICKETS ARE SOLD OUT! A big THANK YOU to all those who were able to donate - we will hold seats for tickets holders until about 10min before start time -- from then, its come one, come all! Looking forward to seeing you all there! xx
Speakers

Tonny Nowshin | Bangladeshi Diaspora Network

Karin Louise Hermes | Filipina-German academic, Indigenous rights and climate justice activist

Rebecca Abena Kennedy-Asante & Nene Opoko | BLACK EARTH- BIPoC Environmental & Climate Justice Kollektiv Berlin

Wadzanai Motsi-Khatai | The Center for Intersectional Justice
Agenda

19:00 Doors open & Networking
19:30 Welcome & introductions from GreenBuzz
19:40 Speaker 1: Tonny Nowshin
19:55 Speaker 2: Karin Louise Hermes
20:10 Break
20:25 Speaker 3: Rebecca Abena Kennedy-Asante & Nene Opoko
20:40 Speaker 4: Wadzanai Motsi-Khatai
20:55 Q&A
21:20 Quick Pitches (audience is given 1min to pitch an idea or project to the room)
21:25 Networking
22:00 End
Quickpitches
There will be a quickpitch session after the presentations which gives you the opportunity to present your project/organisation/company/idea in 1 minute.
Sign up for your slot here!