Birth preparation "Happy Birthing Days" (English) (ONLINE/LIVE)
Birth Preparation for a Calm, Confident, Happy Birthing Days: 2-Day Weekend Workshop (ONLINE/LIVE)
About this Event
Hi! I'm Jutta, international midwife for 37 years! I have welcomed over 3,000 babies & consulted over 10,000 women as a professional midwife and with this experience and knowledge, I have created Happy Birthing Days: the 3-step Midwife Method (Theory + Body + Mind) for a calm, confident birth.
I teach the ONLINE Course "Happy Birthing Days" in English to pregnant women and their partners on specific Saturdays & Sundays (please check Eventbrite for specific dates).
This course is for every pregnant women from as early as 8-13 weeks to the end of your pregnancy.
What will you learn in the Happy Birthing Days?
❤️ Understand the hormones of pregnancy and birth
❤️ Understand the physiology of labor
❤️ Learn optimal birth positions
❤️ How to decide your birth preferences
❤️ Create and communicate your unique birth plan
❤️ Strengthen your mind-body connection & mom intuition
❤️ Effective Practice effective relaxation techniques
❤️ Release endorphins via breath work
❤️ Learn effective partner exercises
❤️ How to bond effectively with your partner
❤️ What is fear of birthing and how to eliminate it
❤️ How to reduce or eliminate pain
❤️ How to bond with your baby inside you
❤️ Reprogram your mind and body for the most enjoyable childbirth and pregnancy
Investment:
Women are covered by their insurance, partners pay €149 (there is a few health insurance which reimburse the partner´´´s fee, please contact your insurance for more info)
NOTE: couples without a German insurance pay €250. Please contact me, if you have no insurance after you booked your ticket: jutta@juttawohlrab.com
Conditions:
Please understand that we will have to charge a cancellation fee of €250 for couples and €120 for single participants.
Testimonials:
"And I must say that thanks to all her advice he was the best coach I could have ever asked for. She is exactly what every mother to be needs. I without a doubt would recommend her to every mother to be. Thank you, Jutta, for being so amazing! "
- Kira, 1st pregnancy
"Dearest Jutta,
I wanted to thank you once again for a wonderful Birth Preparation course this past weekend. I was positive since the beginning of my pregnancy but after attending your course I feel more confident! We are already practicing some of the techniques you taught. I have also already finished reading 40% of your book. As I read it, I can hear you speak it! It's wonderful! I love how you are so passionate about your work, so involved and want the best for all parents-to Thank you once again! Love & best wishes "
- Shweta. 1st preganacy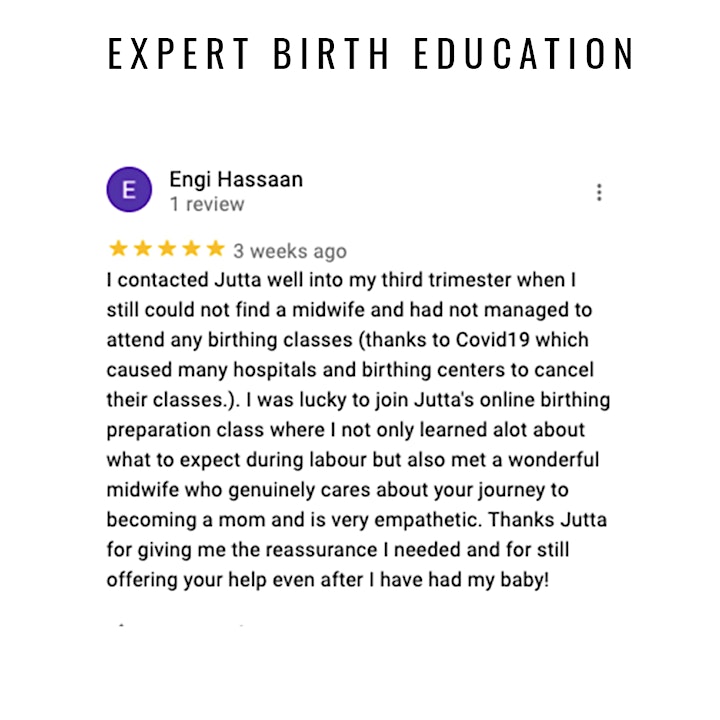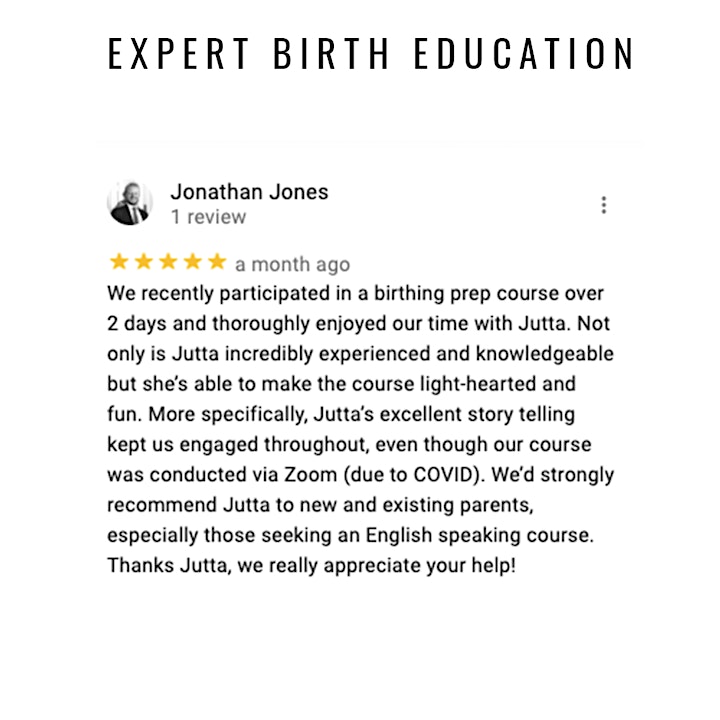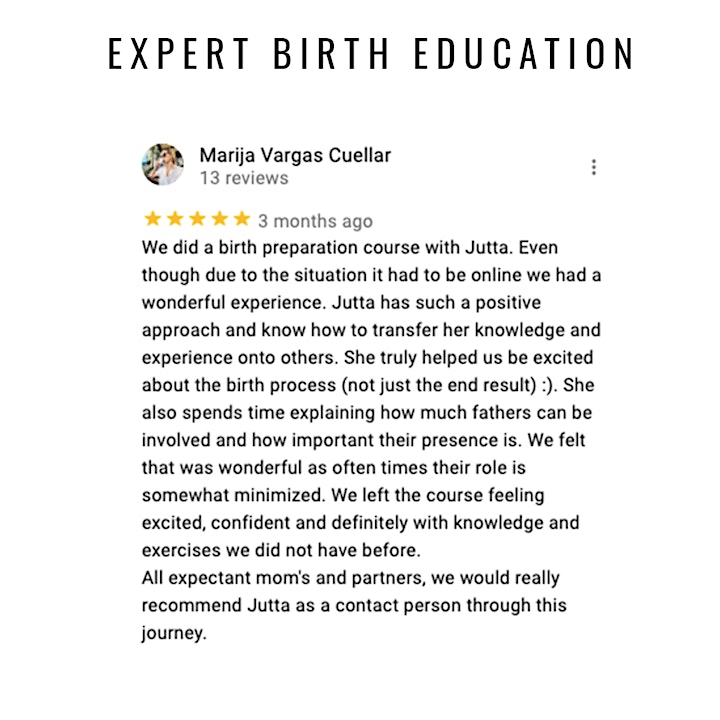 Date and Time
Location
Refund Policy