Location
Munster Technological University
Rossa Avenue
T12 P928 Cork
Ireland
Media Communications Exhibition and CREATE Guided Tour
About this event
MTU's Bishopstown Campus is pleased to open it's doors to retired Munster Technological University staff and older people in the community.
Come and join us for Media Communication Exhibition in James Barry Exhibition Centre followed by guided tours of CAPPA, BioExplore and HIHI facilities in the CREATE Research Building and learn about the interesting research happening in MTU. Light refreshments will be served.
For more information contact us on afu@mtu.ie or 087 6259136.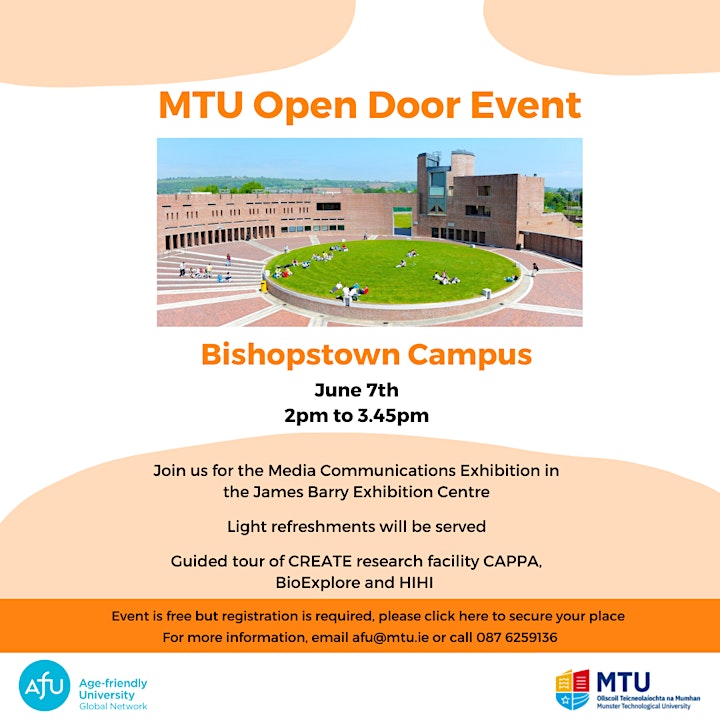 CAPPA, the Centre for Advanced Photonics & Process Analysis is an industry-led applied research group working in the fields of optics and photonics. CAPPA is at the forefront of photonics research in Ireland. Photonics is the study of the generation and manipulation of light, and is an important enabling technology for a wide range of applications. In 2015, the world market for photonics products was €447 billion, some €69 billion of which was produced in Europe. This has led to photonics being identified as one of six Key Enabling Technologies underpinning the European Union's Horizon 2020 funding programme.
CAPPA conducts both applied and fundamental research on photonics for applications in areas as diverse as telecommunications, medical devices, food and pharmaceutical manufacturing. A number of CAPPA personnel are also co-located in the Tyndall National Institute under the MTU@Tyndall partnership.
For more information see https://www.cappa.ie/
BioExplore targets areas crucial for developing our national R&D capacity, such as "basic biomedical sciences, information technology, bioengineering and drug development. Our research is wide reaching and frequently multidisciplinary. Our theme is 'Discover, Design, Deliver'.
Our research groups are concerned with diagnosing, characterizing and treating pathogens and toxins, using approaches such as peptide analysis & engineering, including bio-informatics & molecular diagnostics, focusing on therapeutic applications in infectious disease, gut health and cancer.
For more information see https://www.cit.ie/research-groups/BioExplore
Health Innovation Hub Ireland (HIHI) works across the health sector with Irish businesses to creatively solve problems and improve patient care. Harnessing this innovation, through development of new healthcare technologies, products, and services, will help to create Irish jobs and exports.
We offer companies the opportunity for pilot and clinical validation studies and the health service access to innovative products, services and devices that they may not otherwise be exposed to. HIHI is built on the recognition that collaboration with enterprise can benefit patient care, patient pathways and outcomes.
HIHI is headquartered in UCC and has offices in MTU, NUI Galway and TCD.
For more information see https://hih.ie/