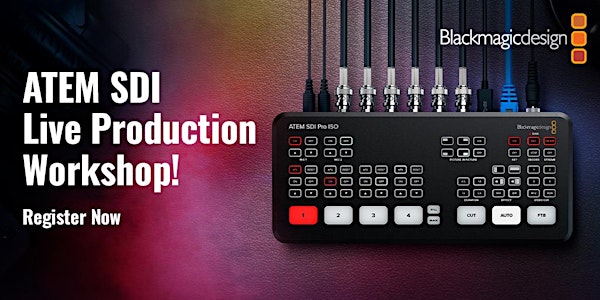 Blackmagic Design ATEM SDI Live Production Workshop
Register now for a free 3 hour Workshop & Q+A, where you can see practical demonstrations & hands on to enhance your live productions!
When and where
Location
Radisson Blu Royal Hotel, Dublin Golden Lane D08 VRR7 Dublin 8 Ireland
About this event
Come talk to us along with the support from Blackmagic and learn how to improve the creative delivery of your live productions, using professional and simple to use SDI based workflows.
The Atem LiveProduction workshop will run from 10:00am to 13:00
there will be a more indepth afternoon session from 14:00 to 16.30
In the afternoon we will be showing a larger ATEM setup that offers increased connectivity and feature set along with additional hardware panels for more physical and tactile control. This will be an informal session with products on show where customers can get hands on and also ask any questions they might have to BMD specialists.
The ATEM Mini SDI range of portable live production switchers are perfect for all kinds of live production.
The addition of SDI connectivity to the incredibly popular ATEM Mini range of models means that you now get a professional lockable connection that connects easily to other professional equipment and can work at much greater cable distance than HDMI.
Blackmagic Studio Camera 4K Pro offers the same connectivity and can be used with the Blackmagic Studio Converter that makes it possible to power the camera, send video, audio, tally and camera control all down a single CAT6a cable. This recreates the experience of using SMPTE Fiber camera channels in a considerably lower cost solution.
This practical 3 hour workshop will help customers understand both the technical workflow and the creative opportunities of these products, leaving them with valuable knowledge that they can use to improve the quality of their live productions.
This educational workshop will take a customer through the realtime of designing and building a live production system including:
• Understanding ATEM SDI
• The advantages of using SDI instead of HDMI for live production workflows
• Blackmagic Studio Camera 4K model and feature differences
• The benefits of ATEM SDI and Blackmagic Studio Cameras when used together
• How CAT6a can be used to power your camera and deliver video, audio, talkback and
tally using a single cable
• How to use ISO recordings of each input for post prodcution of your live programme
with DaVinci Resolve
• Live web streaming encoding options with ATEM SDI models and the rest of the family
ATEM SDI Live Production Workshop Special Offers on the day of the event !!
20% discount off the MSRP on ATEM Mini (all models)
20% discount off the MSRP on ATEM SDI (all models)
20% discount off the MSRP on Blackmagic Studio Camera 4K (Plus & Pro models)