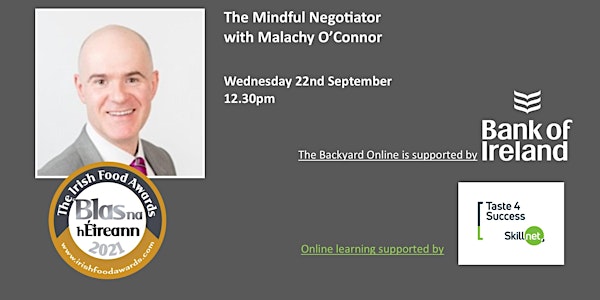 Blas Backyard Online - Mindful Negotiation
A new approach to negotiations that helps neutralise the power imbalance between small suppliers and big buyers
About this event
We will explore the psychology of success and delve into two important topics:
Believing in yourself
Managing stress
Malachy O'Connor is a business strategy consultant & commercial skills trainer. Malachy works across all sectors, having spent +20 years in senior positions in the ultra-competitive supermarket retail sector. Thriving in this cut-throat world required deep resilience but also a deep sense of empathy around how to get the best out of people and how best to serve your customers.
Malachy reckons this comes from his early life, born in England but spending his formative years in the troubled and turbulent society that was Northern Ireland in the 80's and 90's.
Malachy has 25 years' grocery retail experience. He spent his early career in M&S, Dunnes Stores, Superquinn and SPAR, then from '06 as Buying & Marketing Director at Aldi Ireland and from 2014 as Fresh Foods Commercial Category Director at Tesco Ireland. Malachy's core values are impact, comradeship and diversity: making a positive impact with clients and in the world, nurturing trust to build high integrity relationships and harnessing diverse thinking to conjure creative solutions.
The Blas Backyard online events are exclusively for Blas na hEireann 2021 finalists. Following registration The Blas team will be in touch to confirm your space and send on log in details for the event.
Any questions you can reach the team on info@irishfoodawards.com