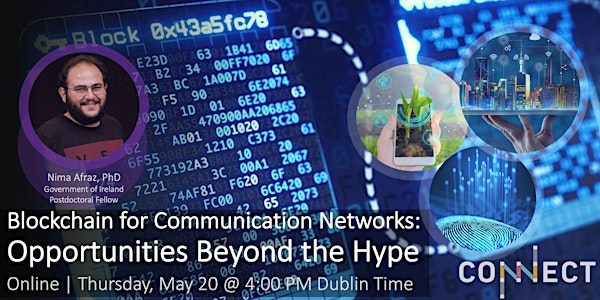 Blockchain for Communication Networks: Opportunities Beyond the Hype
This talk looks beyond the blockchain hype to present a clearer picture of the role blockchain will play in future communication networks.
About this event
Blockchain technology has emerged as a solution providing trust, security and identity managment for companies in the telecommunications, Internet of Things and energy sectors.
There are difficulties, however, facing its full implementation: Companies that have already prototyped solutions to support real-time communication demands have, for instance, encountered difficulties in migrating centralised systems as well as designing new decentralised systems using blockchain.
This talk will:
summarise state-of-the-art research in the use of blockchain in the telecommunications, IoT and energy sectors;
outline blockchain-based R&D projects in the CONNECT Centre, including a look at the technology and infrastructure stack of a blockchain-based solution, and functional and scalability benchmarking apparatus;
provide details of attractive co-funding schemes which allow companies to partner with CONNECT researchers to design and deliver a mutually beneficial blockchain-based research project.
*This research is supported by Science Foundation Ireland and Irish Research Council.
Nima Afraz received a PhD in Computer Science from Trinity College Dublin in 2020 for his research on techno-economics of optical network sharing. He is currently a postdoctoral researcher at the CONNECT Centre where his work on blockchain technology in telecommunications is funded by the Irish Research Council through its Government of Ireland Postdoctoral Fellowship Programme. Nima is the vice-chair of the Linux Foundation's Hyperledger telecom special interest group.