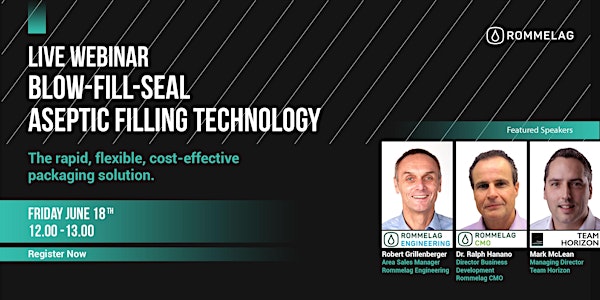 Blow-Fill-Seal Aseptic Filling Technology
Our webinar, in association with Rommelag, gives an overview of Blow-Fill-Seal Technology as a rapid, flexible and cost-effective solution.
About this event
About the Webinar
Blow-Fill-Seal (BFS) technology was invented in 1962 by Rommelag founder Gerhard Hansen. BFS is a rapid, flexible and cost-effective aseptic fill/finish solution for packaging sterile liquids for pharmaceutical applications.
Team Horizon is the UK and Ireland agent for Rommelag, and we invite you to join us to explore the benefits and the opportunities provided by BFS technology.
This one hour lunch and learn webinar is free to attend and includes a panel of expert guest speakers from Rommelag to present and discuss the following:
An introduction to BFS technology
Rommelag Engineering: Pharmaceutical applications of BFS technology
Rommelag CMO: BFS contract manufacturing options
There will also be an opportunity for further discussion with our speakers during the Q&A session at the end of the webinar.
About our Speakers
Robert Grillenberger holds a degree in technical engineering and has been part of the Rommelag team for 6 years. He is the Area Sales Manager for ROMMELAG ENGINEERING and has over 20 years of experience within the packaging industry.
Dr. Ralph Hanano is the Director of Business Development for Rommelag CMO division and has over 20 years' experience in the pharmaceutical industry, specialising in pharmaceutical packaging and BFS technology for contract manufacturing.
The event will be hosted by Mark McLean, the Managing Director of Team Horizon. Mark is a Chartered Engineer with 20 years' experience in project delivery, focusing on aseptic fill/finish applications including BFS technology.
About Team Horizon
Team Horizon is a leading provider of technical, engineering and talent solutions to the Life Sciences sector. Founded in 2010, the company offers specialist project engineering solutions for the fill-finish, primary, secondary and tertiary packaging elements of the manufacturing life cycle, and contract services providing resourcing and recruitment solutions focused on engineering, quality, technical and scientific roles. Clients include 15 of the top 30 global medical device firms, 16 of the top 30 global pharmaceutical firms and five of the top ten global biotechnology firms.
www.teamhorizon.ie
About ROMMELAG
Rommelag Engineering division designs and builds bottelpack machines, which are capable of manufacturing up to 34,000 containers per hour in a wide variety of forms (examples include bottles/tubes /ampoules) and plastic blends (typically polyethylene or polypropylene) with filling volumes ranging from 0.04 to 10,000 ml.
Rommelag CMO division fills more than 2 million containers per day for customers all over the world, operating more than 50 systems in multiple configurations. Equipment and process are set up to meet EU/FDA pharmaceutical standards, perform test fills, and deliver production or small-scale batches for our customers.
www.rommelag.com