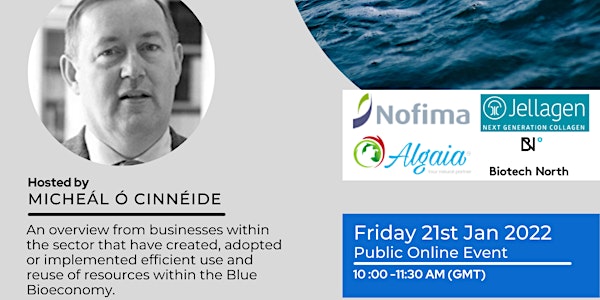 Blue Bioeconomy: Unlocking the commercial potential
Blue Bioeconomy: Unlocking the commercial potential Bithgheilleagar Gorm: Acmhainn Tráchtála
About this event
Learn more about the companies operating in the blue biotechnology sector, and gain some insight on how these innovative companies began and grew their businesses from concept to a commercially viable business. The event will showcase pioneers in early stage research aimed at commercialisation of marine ingredients from under utilised species, an innovative SME utilising jellyfish for production of marine collagen, a longstanding company involved in the production and research of natural marine derived products and solutions, and finally a cluster of blue biotechnology companies in north Norway.
This event will include a Q&A where you, the audience, can ask the speakers the information you need to know. ----------------------------------------------------------------------------------------------------
Faigh tuilleadh eolais faoi na comhlachtaí atá ag feidhmiú in earnáil na bith-theicneolaíochta gorm, agus faigh léargas ar an gcaoi ar thosaigh agus ar fhás na comhlachtaí nuálacha seo a ngnólachtaí ó choincheap go gnó inmharthana. Tabharfaidh ceannródaithe sa taighde luathchéime a bheidh i láthair ag an imeacht seo léargas ar an mbealach le comhábhair mhuirí a thráchtálú ó speiceas tearcúsáidte, agus FBM nuálach ag úsáid smugairle róin mar foinse collaigin mhara, gnó fadbhunaithe a bhfuil baint acu le táirgeadh agus taighde nádúrtha a dhíorthaítear ó fhoinsí mara, agus ar deireadh braisle de chuideachtaí gorma biththeicneolaíochta i dtuaisceart na hIorua.
Beidh imeacht ceisteanna agus freagraí mar chuid den ócáid seo áit gur féidir leis an lucht féachana an t-eolas a theastaíonn uathu a fháil ó na cainteoirí.