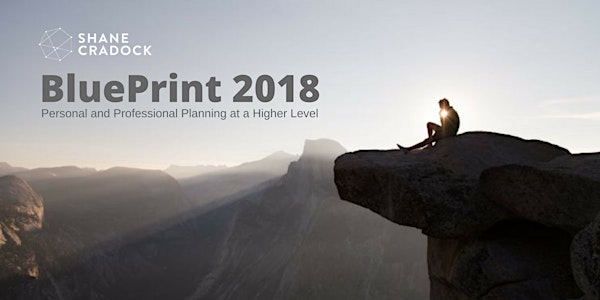 BluePrint 2018 - Personal and Professional Planning (Part of The Inner CEO series)
When and where
Location
Emmaus Centre Swords K67Y274 Ireland
Description
*** This Event Is Now Sold Out - New Workshop In 2018***
Make Next Year Your Best Yet
When was the last time you took a really productive day out just for you?


---

BluePrint 2018 is a unique and successful one day workshop that is back this year due to high demand and strong results.
Most people know the value of taking time out to think, plan and prioritise, but despite this, not everyone takes the time to do it – or indeed knows the most effective way of doing it.
"More clarity leads to more focus, which leads to better results."
What difference do you think it would make to your business and life if you were 20% clearer on where you're going and why? What about 50% or even 100% clearer?
"It's never been easier to be busy doing nothing.
And it's never been more important to get clearer on what matters most to you."
Wouldn't you agree that it's probably more vital than ever to be clear on what your priorities are?

---
'BluePrint 2018' will make a big difference to your year
– in both your professional and personal life.

"It gave me time to think and plan my year; helped crystallise my thoughts.
My mind was opened to new areas and possibilities and I have a more positive mindset as a result."
~ Karen Morton, EMEA Marketing Director, Dell
At this time of the year most people set resolutions or goals for the year ahead. Unfortunately, most never achieve these goals or find themselves setting 'smaller goals' to be sure of getting them. Yet they never really 'stretch' themselves.
At the 'BluePrint 2018' workshop you will learn why this happens, and more importantly how to avoid it. The day will be run in a workshop format with similar minded people, which means that you will get the chance to bounce your ideas off people from different backgrounds, careers and walks of life. You'll also have a chance to hear 'Uncommon Solutions' to some of your immediate business and career problems.
You will leave this 1-day event with:
More clarity on your long term future

Your top priorities for this year clearly identified

A written action plan

Information on how to keep yourself motivated for the year ahead

Inspiration to take on new challenges
Apart from getting the above, by taking this time out you will also:
Share a day with like-minded people

Network with people who are well connected and willing to help

Get a chance to learn from others' experience

Get the opportunity to bounce ideas off experienced business people

Get creative ideas about how to 'jump' your business and life forward
Note: This BluePrint workshop is open to anyone - working, not working, business owners or self employed people.
The format of this interactive workshop is a mix of:
Personal Reflection

Goal Setting

Education & Learning

Personal Planning

Valuable Time Out
As well as being a really useful day of thinking and planning it's also a great day for your personal growth and self-development. The day will be facilitated by Shane Cradock, a leading coach, advisor and speaker.


---
About Shane Cradock
Over the past 17 years, Shane has worked with top entrepreneurial leaders in Ireland and internationally. His clients are ambitious people hungry for growth and clients include Top Fortune companies such as Apple, Dell, the Kantar Group and Prada along with Irish/UK businesses such as Milner Browne, Saba and Ely Restaurants, Louis Copeland & Sons, Boodles and many more. www.shanecradock.com


---
Client Testimonials
"Shane has been instrumental in changing the way I look at business both in terms of priorities and seeing the bigger picture, and has been someone I can turn to for sound advice and guidance every step of the way. He has also been key to a number of developments in my personal life for which I am very grateful. I have recommended his services to a number of people and would not hesitate in continuing to do so." ~ James Amos, Director, Boodles
"I believe 99% of business coaches don't earn their keep, but in Shane you'll find that elusive 1%. Shane's philosophy that business and personal success are inextricably intertwined is one I totally agree with." ~ Richard Waring, CEO Millward Brown Ireland
"Working with Shane helped me to gain clarity on exactly what I wanted and gave me the courage to take some bold steps in creating the future I really wanted. 1 year on and I can honestly say that my life and career have completely jumped to the next level. Time spent with Shane has been a fantastic investment – business and personal." ~ Georgina Coleman, Miu Miu Retail Director, PRADA USA
"The feedback we have received since your session was truly overwhelming. Such a positive reaction and what you said has really stuck with people. In fact there was one lady who had just been on a 2 day training course but she got much more out of your 2 hours! The most inspiring talk we have ever had." ~ Karen Morton, EMEA Marketing Director, Dell
"With Shane's support I have taken my work to a higher level of professionalism. He has helped define the trajectory of my career and facilitated some great project successes. He has maintained focus on my long term objectives and we are getting there. I value his input to my business enormously." ~ Chris Levine, International Award Winning Visual Artist
"Working with Shane has helped me to gain more clarity and control over everything. His unique approach on the 'inner game' of business in particular has helped my focus and also improved our bottom line. His contribution has been invaluable." ~ Morgan Browne, CEO, Milner Browne Group
"Shane's facilitation has helped clarify key strategic elements at vital stages and importantly, keep us focused on the real priorities. His insights and unique approach on the 'inner game' have proved to be of immense value both to me personally and to Eden, as we create new innovative ways of bringing the Eden message to an international audience." ~ Peter Hampel, Creative Director, Eden Project
"It made clear that I need to take my focus off the minor stuff and focus more on the bigger picture"
~ Louis Copeland Jnr.
"The day helped re-boot my system and gave me tools and a list of actions to reframe my state of mind in a positive way." ~ Justin Morton, MD, KIT Safety
---

To Attend the BluePrint 2018 Workshop
Most people are busy. But the question is: Are you busy doing the right things?
This 1-day workshop will help to get your focus you onto what's most important.
If what you're reading so far strikes a chord, please register soon for what will be a day of focus, energy and renewed enthusiasm.
Workshop Details:
Date: Friday 8th December 2017
Venue: Emmaus Centre, Swords, Dublin

Fees: €237 (earlybird offer of €197 available up to 9th November 2017)

Register Now: To Attend the BluePrint 2018 Workshop please book your ticket here.
To register for this event, please book here with eventbrite
OR send an email to support@shanecradock.com or call 01- 442 9412
As Albert Einstein said "If you always do what you've always done, you'll always get what you've always got!" Make 2017 a year of positive change for you, when you really look to do things differently.


---
Terms:
One simple one - In the event a workshop or event does not run we refund all fees. If you must cancel, there are no refunds but you may apply the full amount as a credit against any future workshop without time limit.