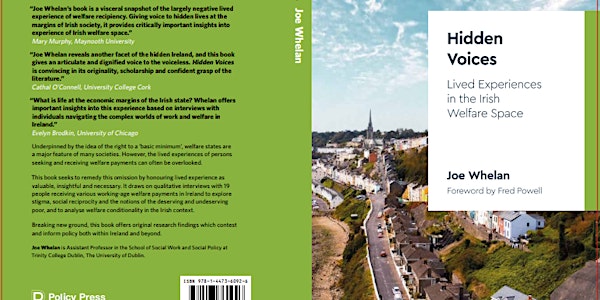 Book Launch: Hidden Voices Lived Experiences in the Irish Welfare Space.
Location
Trinity College Dublin
College Green
Dublin 2
Ireland
The official hardcover and eBook launch of 'Hidden Voices: Lived Experiences in the Irish Welfare Space' by Joe Whelan.
About this event
Trinity College Dublin and the School of Social Work and Social Policy are delighted to invite you the official launch of 'Hidden Voices: Lived Experiences in the Irish Welfare Space'. Note that this is an in-person event.
Published by Policy Press and authored by Dr Joe Whelan, Assistant Professor in the School of Social Work and Social Policy, this book interrogates lived experience in the context of social welfare. It draws on qualitative interviews with persons receiving various working age welfare payments in Ireland to explore stigma, social reciprocity and the notions of the deserving and undeserving poor, and to analyse the effects of welfare conditionality in the Irish context.
Breaking new ground, this book offers original research findings which contest and inform policy both within Ireland and beyond.
The launch will take place in the Trinity College Staff Common Room. Refreshments will be available on the evening and the book will be officially launched by the prominent and pathbreaking social policy academic, Emeritus Professor Fred Powell who has written the foreword for the book.
Praise for Hidden Voices so far:
"Joe Whelan's book is a visceral snapshot of the largely negative lived experience of welfare recipiency. Giving voice to hidden lives at the margins of Irish society, it provides critically important insights into experience of Irish welfare space." Mary Murphy, Maynooth University
"Joe Whelan reveals another facet of the hidden Ireland, and this book gives an articulate and dignified voice to the voiceless. Hidden Voices is convincing in its originality, scholarship and confident grasp of the literature." Cathal O'Connell, University College Cork
"What is life at the economic margins of the Irish state? Whelan offers important insights into this experience based on interviews with individuals navigating the complex worlds of work and welfare in Ireland." Evelyn Brodkin, University of Chicago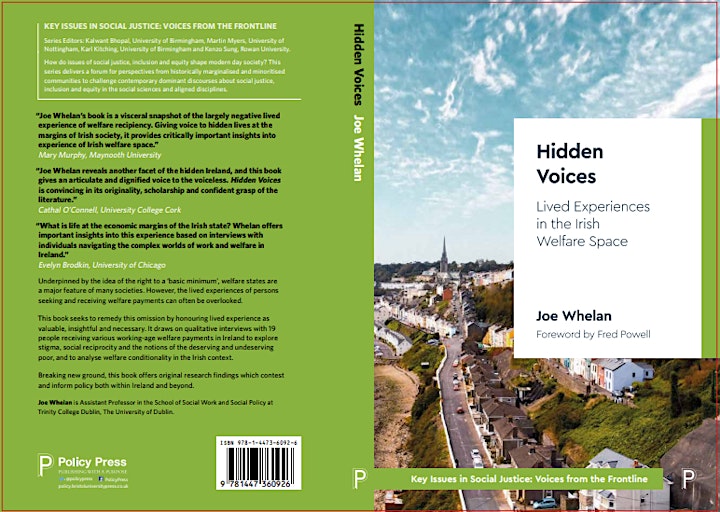 This event will be of interest to those who write, teach, research or work in the area of welfare policy and social policy in general. The book will be available to order in hardback or eBook format at a discounted rate on the evening and is currently available for preorder at: https://policy.bristoluniversitypress.co.uk/hidden-voices. Some physical copies will also be available on the evening of the launch and can be purchased with cash or via PayPal at cost price of €60 . Spaces at the event are limited and early booking is advised. Please only register if you are fully committed to attending. Please note that this event is not open to students due to venue rules. For more information, or to make an inquiry about attending, you can contact the event organizer at: JWHELAN9@tcd.ie.