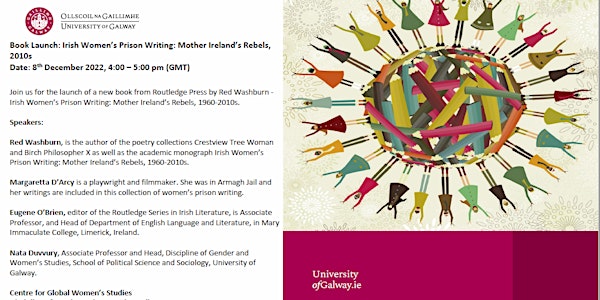 Book Launch: Irish Women's Prison Writing: Mother Ireland's Rebels, 2010s
Book Launch: Irish Women's Prison Writing: Mother Ireland's Rebels, 1960-2010s
About this event
Join us for the launch of a new book from Routledge Press by Red Washburn - Irish Women's Prison Writing: Mother Ireland's Rebels, 1960-2010s. This book explores 50 years of Irish women's prison writing, connecting the work of women leaders and writers in the Six Counties of Ireland during the Troubles. The book documents and analyzes the ongoing Irish freedom struggle from an abolitionist feminist perspective, using personal correspondence, auto/biographical narratives, and poetry of the following key women: Bernadette McAliskey, Eileen Hickey, Mairéad Farrell, Síle Darragh, Ella O'Dwyer, Martina Anderson, Dolours Price, Marian McGlinchey (formerly Marian Price), Áine and Eibhlín Nic Giolla Easpaig (Ann and Eileen Gillespie), Roseleen Walsh, and Margaretta D'Arcy.
Speakers:
Red Washburn is the author of the poetry collections Crestview Tree Woman and Birch Philosopher X as well as the academic monograph Irish Women's Prison Writing: Mother Ireland's Rebels, 1960-2010s. Red is Professor of English and Director of Women's, Gender, and Sexuality Studies at Kingsborough and Affiliate Faculty of Women's and Gender Studies at the Graduate Center (CUNY).
Margaretta D'Arcy is a playwright and filmmaker. She was in Armagh Jail and her writings are included in this collection of women's prison writing. She is a member of Aosdana and lives in Galway.
Eugene O'Brien, editor of the Routledge Series in Irish Literature, is Associate Professor, and Head of Department of English Language and Literature, in Mary Immaculate College, Limerick, Ireland .
Nata Duvvury, Associate Professor and Head, Discipline of Gender and Women's Studies, School of Political Science and Sociology, University of Galway.