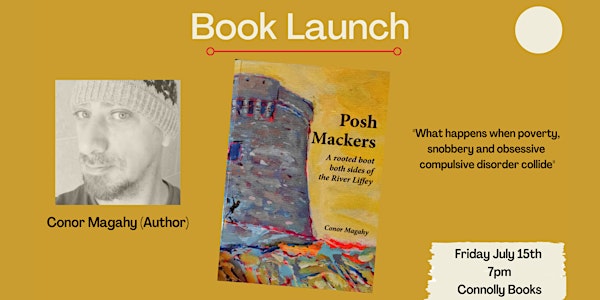 Book Launch - Posh Mackers - Conor Magahy
In conversation with author Conor Magahy
When and where
Location
Connolly Books 43 Essex Street East Temple Bar Dublin 2 Ireland
About this event
In conversation with Conor Magahy, author of 'Posh Mackers'
"This is an oddly shaped memoir. Stay where you are! These memories are from 1978 to 1988 and they are my own. Some other memories in this book belong to people born long before me. This took much longer than it should have to write. I travelled into memories. I had chosen to forget. When anyone does that journey, it can be difficult.
Posh Mackers, A rooted boot both sides of the River Liffey, is about what happens when poverty, snobbery and obsessive compulsive disorder collide. There will be no judgement if you cry at some points during this book. No judgement if you don't as well. Same rules apply for laughing."
A Q and A will follow with drinks reception. The event is free and all are welcome!