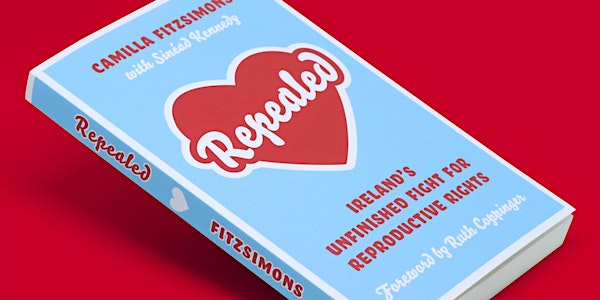 Book Launch: Repealed, Ireland's Unfinished Fight for Reproductive Rights
Book launch of the much anticipated Repealed; Ireland's Unfinished Fight for Reproductive Rights by Camilla Fitzsimons with Sinead Kennedy.
When and where
Location
Hen's Teeth BlackPitts Merchants Quay D08 A9FD Dublin 8 Ireland
About this event
In Ireland, 2018, a constitutional ban that equated the life of a woman to the life of a fertilised embryo was overturned and abortion was finally legalised. This victory for the Irish Repeal movement set the country alight with euphoria. But, for some, the celebrations were short-lived – the new legislation turned out to be one of the most conservative in Europe. People still travel overseas for abortions and services are not yet fully commissioned in Northern Ireland.
This book traces the history of the origins of the Eighth Amendment, which was drawn up in fear of a tide of liberal reforms across Europe. This book draws out the lessons learned from the groundbreaking campaign in 2018, which was the culmination of a 35-year long reproductive rights movement and an inspiring example of modern grass¬roots activism. It tells the story of the 'Repeal' campaign through the lens of the activists who are still fighting in a movement that is only just beginning.
Repealed is being formally launched by Caelainn Hogan, author of Republic of Shame and Ruth, Sinead and Camilla will each say a few words.
Please note this is an indoor event. Covid vaccination certificates are required and attendees are asked to wear face coverings when moving around the venue