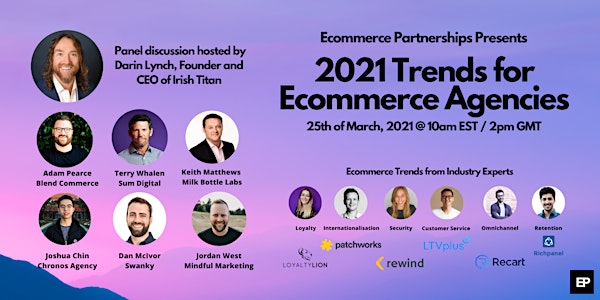 Boost Ecommerce Agency Growth with Top Industry Trends in 2021
Boost Ecommerce Agency Growth with Top Industry Trends in 2021
About this event
Ecommerce was one of the few industries that saw unprecedented growth with some reports suggesting it was fast tracked by more than 10 years in just 6 months. As a result, ecommerce agencies have been forced to pivot and embrace the unknown.
In this interactive virtual event for ecommerce agency owners, we'll reflect on the learnings from 2020 and the impact it had on agencies in 2021. Learn from peers and industry experts on the trends you should be focused on so your agency is providing best-in-class recommendations to your merchants. Remember, their growth is your growth too!
Event Format
We will kick things off with a panel discussion led by the one and only Darin Lynch, Founder and CEO of Irish Titan. The panel will be made up of six agency owners: Adam Pearce (Blend Commerce), Terry Whalen (Sum Digital), Dan McIvor (Swanky), Keith Matthews (Milk Bottle Labs), Jordan West (Mindful Marketing), Adam Pearce (Blend Commerce) and Joshua Chin (Chronos Agency).
In addition to specific ecommerce trends, the panel will cover the impact the pandemic had on emotional intelligence as a leader, the importance of recurring revenue and partnerships, supporting employees struggling with mental health and how being forced to work remotely influenced agency growth plans.
We'll then have our sponsors share their top trends for 2021 and recommendations on what agencies can do to help their merchants capitalise on each trend:
Loyalty (LoyaltyLion)
Customer service (LTVplus)
Security (Rewind)
Retention (Richpanel)
Omnichannel (Recart)
Internationalisation (Patchworks)
To close out the event, we'll have a quick quiz question from each sponsor with 6 Beats by Dre headphones up for grabs for the first correct answer...
Event Sponsors
A massive shoutout to our fantastic event sponsors:
Kasia Migas, Senior Partnerships Manager (Loyalty Lion)
Loyalty Lion is a data-driven loyalty and engagement platform that powers ecommerce growth. Unlock real insights to build a better understanding of what drives longer-lasting customer relationships, and use those insights to connect and accelerate your existing marketing efforts. Proven to increase retention and spend, LoyaltyLion is trusted by thousands of fast-growth ecommerce merchants worldwide.
Tshili "Chilli" Khupe, Partnership Manager (LTVplus)
LTVplus is an outsourcing company that provides customer service for e-commerce brands. We build, train and manage dedicated teams of live chat agents, customer support agents and recovery specialists that will help you scale your customer support through live chat, email, social media, voice and SMS. We also provide Failed Payment Recovery and Cart Abandonment services as part of our offering.
Maura Woodman, Product Manager (Rewind)
Since 2015, Rewind has been on a mission to help businesses protect their SaaS and cloud data. Today, over 80,000 customers in more than 100 countries use Rewind's top-reviewed apps and support to ensure their SaaS applications run uninterrupted. The Rewind platform enables companies to back up, restore and copy the critical data that drives their business.
G.D.J. Dorai, VP Customer Success (Richpanel)
Richpanel is a customer service solutions platform, purpose-built for the ecommerce industry. Richpanel's self-service platform allows merchants to design an Amazon-style account page on their store, where they can automate order tracking, returns, exchanges, cancellations, order changes and more. The platform also has an agent help desk to help customer support agents manage incoming queries across various touchpoints such as email, live chat, social media and phone.
Jani Vrancsik, Partner Manager (Recart)
The #1 paid for Shopify app in terms of installs, Recart is a mobile marketing platform that helps innovative ecommerce brands reach their customers on a unique channel, Facebook Messenger. Using Recart, marketers can rapidly grow their email, SMS, and Messenger lists at the same time. Based on real-time behavioral data, Recart automatically engages and opens automated conversations with your customers on Facebook Messenger. We deliver messages for all major ecommerce use cases - abandoned cart, receipts, shipping notifications, product recommendations, one-off promotions with almost 100% open, and 30%+ engagement rates. 155,000+ Shopify stores installed Recart so far and saw an average 61x return on their investment.
Dave Wiltshire, Managing Director (Patchworks)
Patchworks is an iPaaS (integration platform as a service), which is a cloud-based platform that allows you to automate the flow of data across your company's different systems – whether that's an ecommerce platform, ERP, CRM, warehouse system, marketplace, marketing app, POS system or a 3PL. Instead of manually moving data between half a dozen disconnected systems, Patchworks acts as a central hub for your software – a place for your systems to share the information you decide needs to be shared, when you decide they should share it.