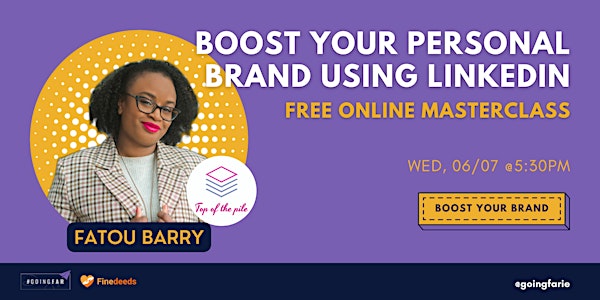 Boost your personal brand using LinkedIn
Are you a migrant professional living in Ireland? Are you struggling to achieve your career goals? Then join our exclusive workshop!
About this event
In this GoingFar masterclass with Fatou Barry from Top of the Pile, you will learn how to build a brand and get noticed by the right people using LinkedIn. As a migrant in Ireland, boosting your personal brand is key to finding employment, setting up a business, and achieving your career goals.
LINK TO JOIN:
https://us06web.zoom.us/j/82660563914?pwd=Y2RSeWJvNGZBdzZ6ODZwTDBKVmdmQT09
WHAT YOU WILL LEARN:
🕵️‍♀️ How to use LinkedIn to apply for suitable opportunities and increase your chances to get noticed by the right people;
👁 How to increase your visibility and build a compelling profile even if you have little experience or are changing careers;
✍️ How to reach out professionally to new connections in order to build meaningful relationships and advance your career;
🗣 How to develop your personal branding and confidently promote your skills, talents & abilities on the platform.
WHY ATTEND:
🧑‍🏫 Learn from the best! Fatou has helped dozens of professionals land their corporate dream job;
📄 Get a free booklet with tangible tips on how to boos your personal brand;
🧑🏼‍🤝‍🧑🏾 Meet other migrant professionals and expand your network.
ABOUT THE SPEAKER
Fatou Barry is a Career Coach & Mentor based in Cork City. In July 2019, she launched her career coaching and consulting business "Top of the Pile" with the mission to help her fellow multilingual expats stand out, get hired and no longer feel stuck in their careers.
Originally from France, Fatou moved to Cork in June 2014 and changed jobs multiple times before paving her own career path as a life and career coach. Through her business, Fatou empowers ambitious but frustrated multilingual professionals to go for jobs that they really want and pursue a career they will truly love. Her 4-week group mentoring programme 'Get the Job!' has helped dozens of professionals land their corporate dream job.
Fatou has also hosted various career and job search-related workshops for MTU Cork Marketing Society, InterNations, Cork Volunteer Centre, Africa Day Cork, and Junior Chamber International, between others.
Find out more about Top of the Pile on www.topofthepile.eu
Instagram | Facebook | LinkedIn
ABOUT GOINGFAR:
GoingFar is a non-profit that supports migrant and refugee professionals in Ireland, with a focus on women and non-binary people. We organise talks, workshops, mentoring and networking events to give migrants the tools to thrive in their careers. To learn more, visit our website or contact Talita Holzer on talita@goingfar.co