Description
Our Biggest Youth Competition of the year is back!
Head to BoulderWorld Belfast on the 9th September 2017 and battle it out to win top spot in your age category and be crowned Boulder Battle King or Queen.
Qualifying will last for 3 hours and consist of 15 problems per category ranging in difficulty from easy to hard.
Participants will have up to 5 attempts per problem.
The top 4/6 (depending on the size of category) competitors per category will make it through to finals.
Finals will begin approximately 1 hour after qualification finishes.
Youth D and E categories will follow the YCS style scoring and consist of 3 problems
Youth C - Junior will follow the IFSC style scoring and consist of 3 problems.
Registration = 10am - 10.30am
Qualification for all age categories will run from 11am to 2pm.
All score cards must be handed in at the registration desk by 2.15pm
Youth D+ E finals will run 2.30 - 3.30pm
Youth C, B, A and Junior finals will run 3.00pm onwards.
Entry is £14 per child and includes entry to the competition and competition t-shirt.
All competitions must be pre registered online via the 'EVENTBITE' link.
We will be using the IFSC categories for age. Please check the
information in the table below carefully to make sure your child is
eligible to enter the competition. You are eligible if you were
born between 1998 and 2009.
There will be 6 age categories with a male and female
sub-category in each (table below)
Junior = Those born 1998 + 1999
Youth A = Those born 2000 + 2001
Youth B = Those born 2002 + 2003
Youth C = Those born 2004 + 2005
Youth D = Those born 2006 + 2007
Youth E = Those born 2008 + 2009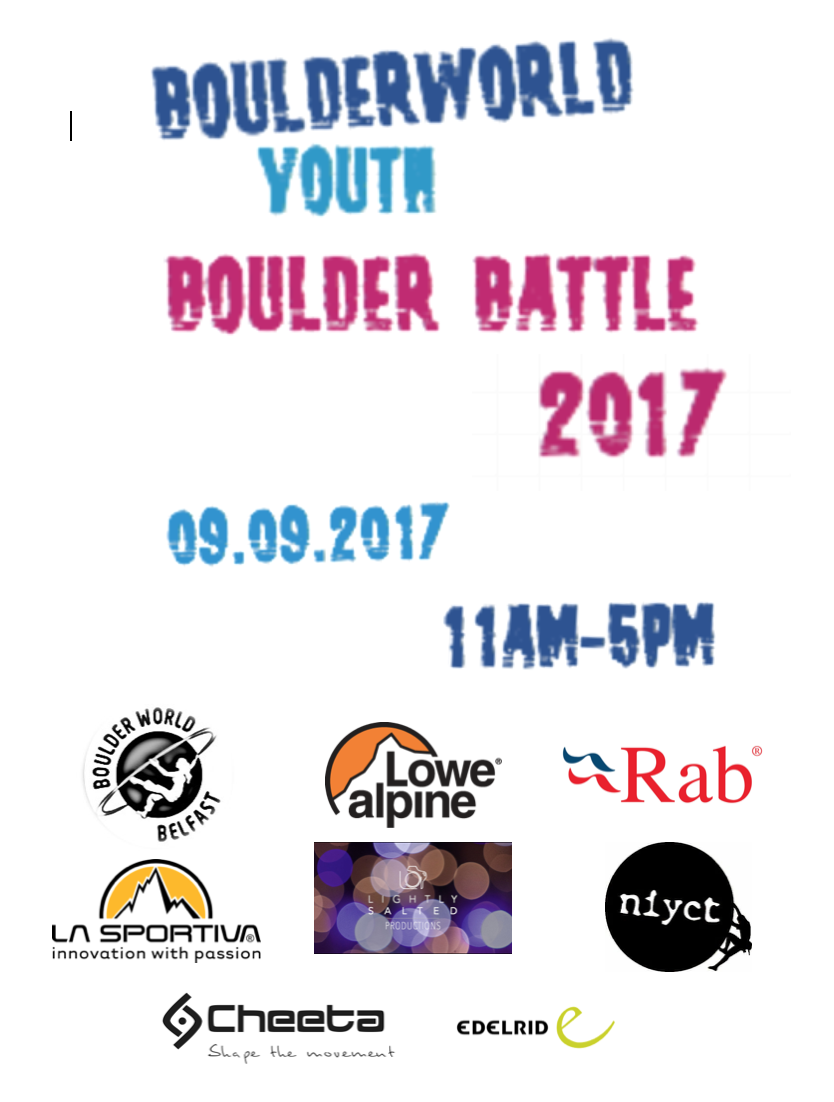 As always a huge thanks to all our sponsors not only for making it possible to run the event but to have the latest holds to set with, the prizes to present and the photos to prove it :)